Sometimes I pretend I am a casting director of a big movie, only instead of casting stars, I cast furniture.  I guess they call that a set designer.  I actually never pretend that at all.  But I do wish I knew how to be a makeup artist, because that seems like the funnest job ever.   PS: could someone please hire Britney some better makeup artists on The X-Factor? Girlfriend is looking rough. I mean these are the same people who made Paula Abdul look like a fresh-faced teenager, yes?  Surely they could try harder.
What does all that rambling have to do with this enormous bunch of chair makeovers I have rounded up for you today?  Nothing that I can think of!  Enjoy!
Rachel at
Thrifty Inspirations
de-drabbed this wicker chair
by painting the wicker!  I think it's wicker.  Some sort of mesh?  I have no idea.  It looks very nautical!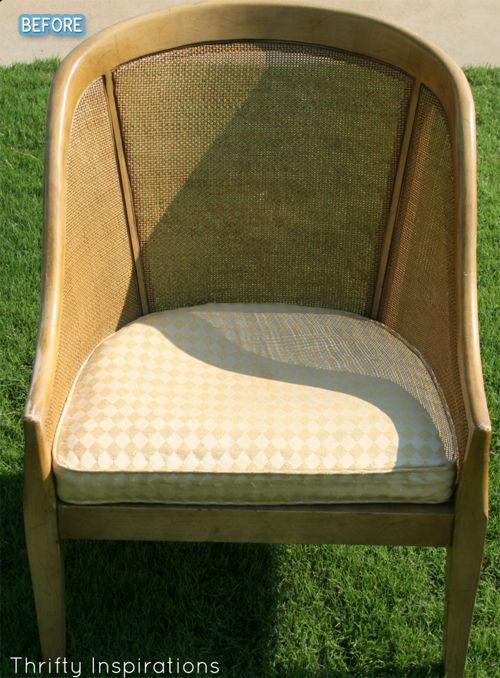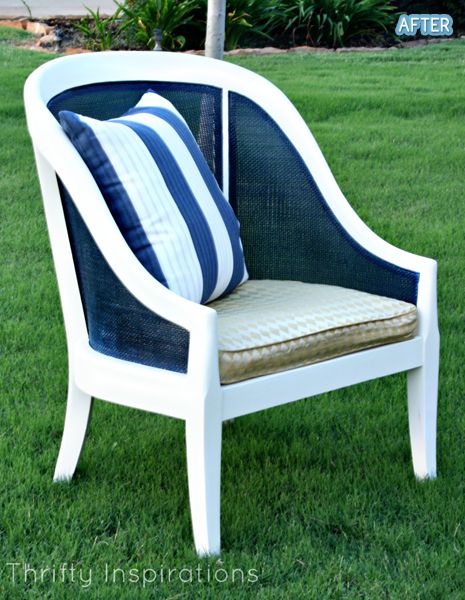 Katie from
Spirals and Spatulas
went with black and white stripes on this chair, which is a foolproof plan for making anything better.  ANYTHING.  Except maybe prisoners?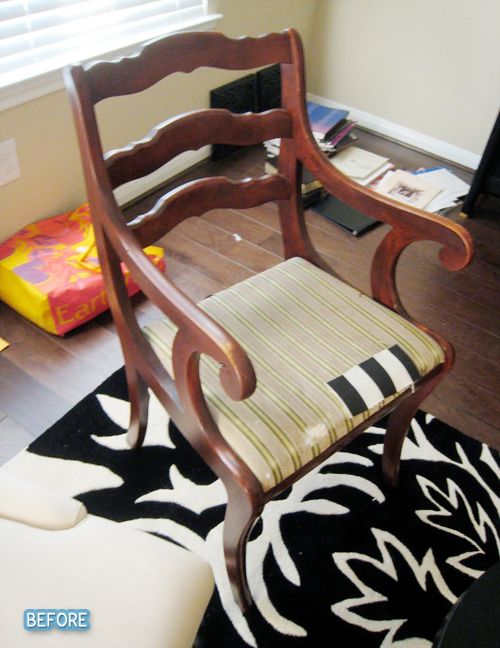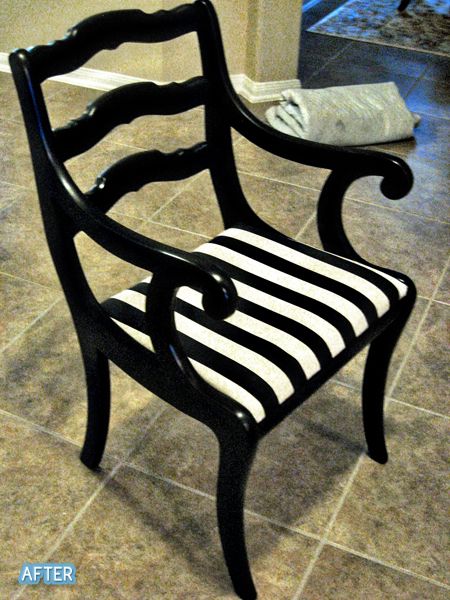 Kenz was inspired by Restoration Hardware's Versailles chair, which is probably more expensive than any car I've ever owned. She DIYed her own version out of a tiki chair instead!  Check out her whole process on
Interiors by Kenz
.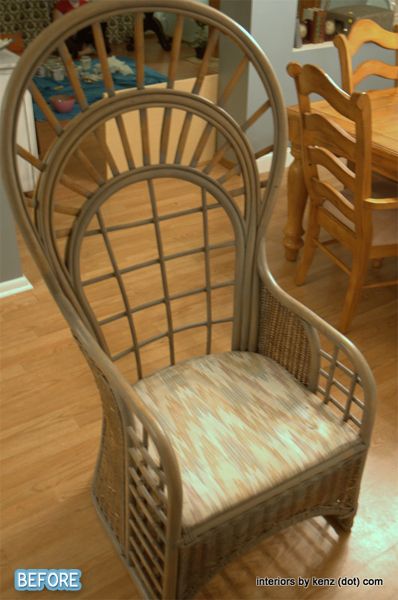 I love this one from Tanya at
Dans Le Townhouse
.  She taped off a design on the seat so the original wood could show through, damage and all.  However, she did clean off that swipe of what looks like bird crap first, thankfully.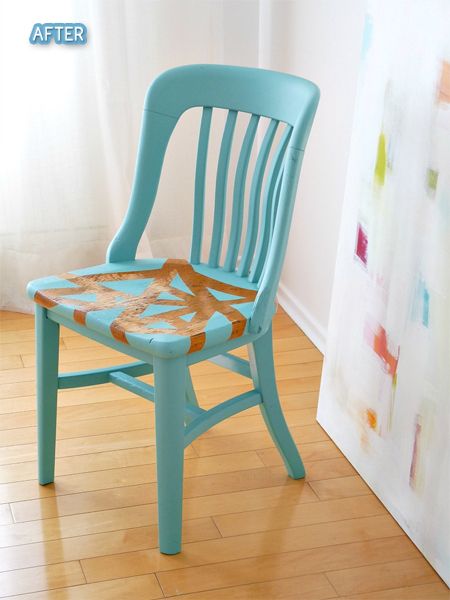 I can't be too mad at a pair of pink velour chairs, because yay fun!  I just don't want them in
my
house. But the after version?  Yes. And yes.  From Leslie at
Pillow Love
.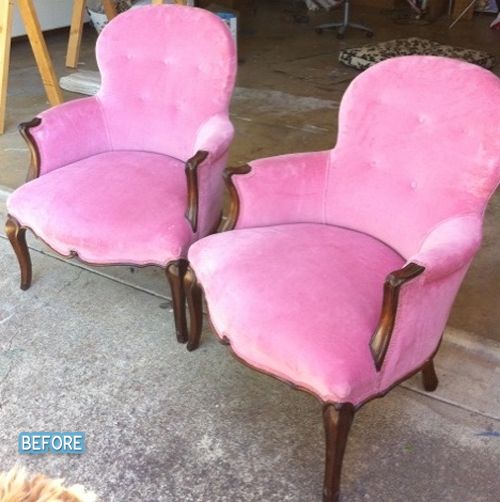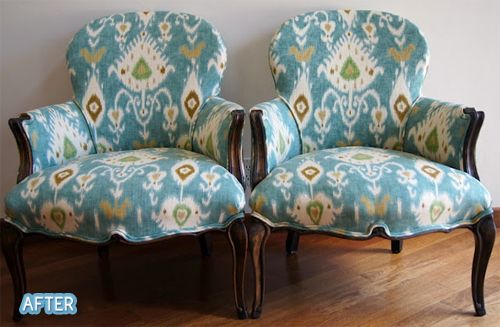 And here's another from Leslie at
Pillow Love
, who once again bid adios to velour in favor of the funnest fabric I've seen all day.  Spoiler alert: elephants!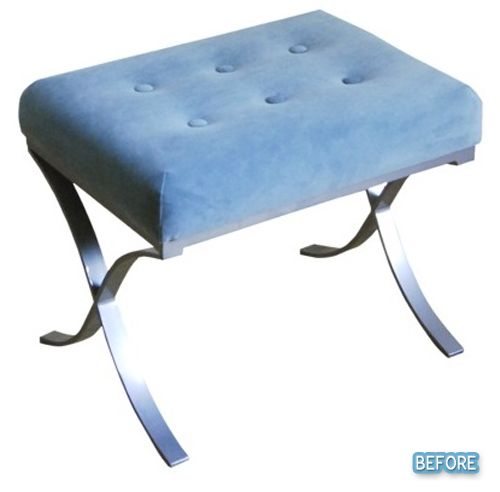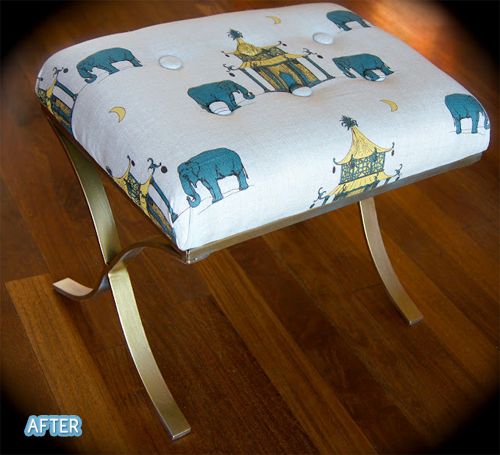 Adriana found this cute little chair in the trash and said "A chair is always a chair.  I decided this one deserved a second chance."  Aww.  It's like a Lifetime Movie. See more on her blog
Refresh and Play
.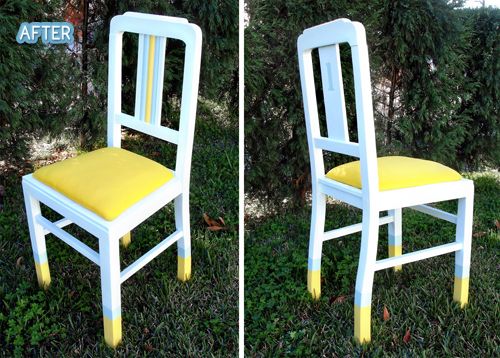 Better After reader Melissa and her mom beautified this dreary office chair, which is surely the envy of her office now.  And as an added bonus, it's theft-proof!  Nobody could possibly sneak this into their cubicle without getting caught.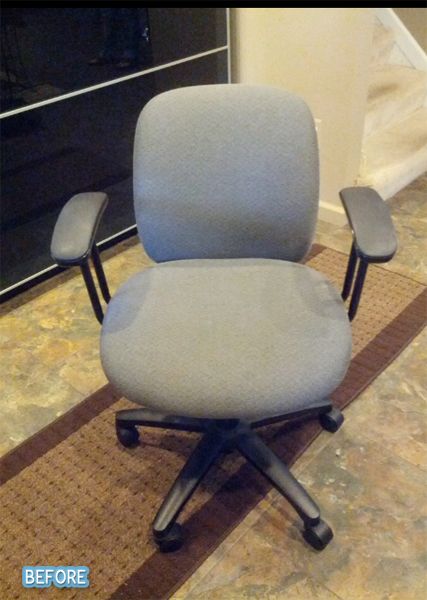 This next chair is like the beginning of a joke: Better After reader Helene is a French girl who learned English in Canada, got inspired by American blogs, found this chair in Switzerland and covered it in Guatemalan fabric. Look for it at her next dinner party where she'll be serving baguette tacos.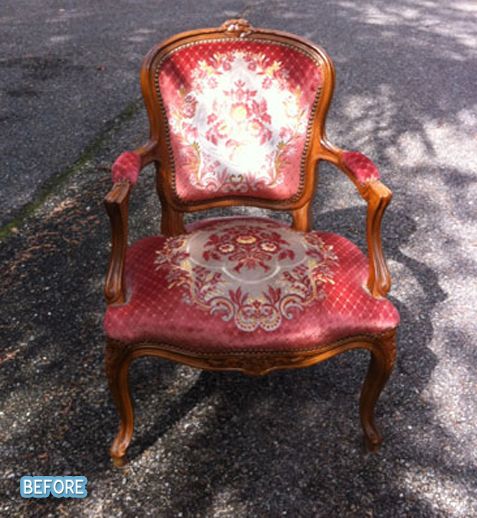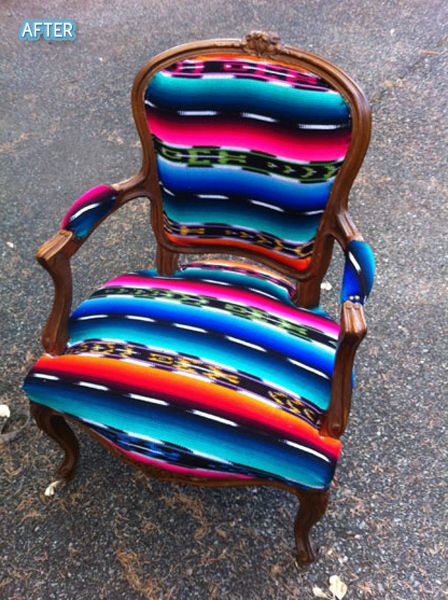 Sara and Stacy at
Sugar Scout
have a knack for looking past the pitiful and seeing potential.  I would have quickly walked past these gross chairs while scrubbing myself with hand-sanitizer, but they turned them into a cool gray modern duo that I would be proud to have in my home. 
*cough*hint*givethemtome*cough*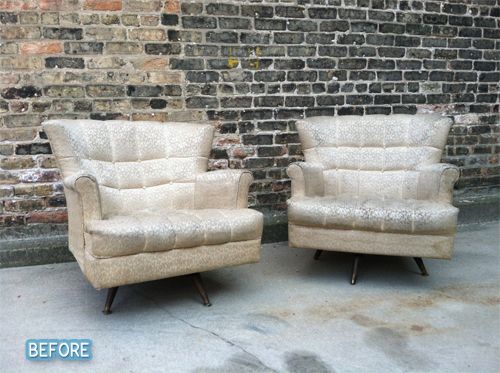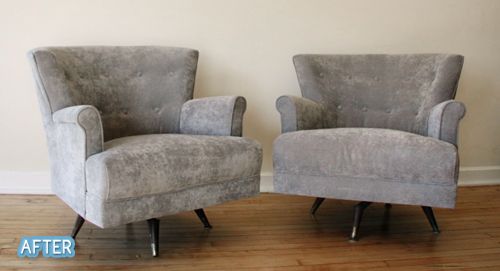 And finally, a ruby red showstopper from Antonia at
Voodoo Molly Vintage
.  Not only did she save the tufting (oh, how I love tufting) she added some bling with diamond buttons.  (oh, how I love the buttons).  (Never really been a fan of the word 'bling' though).  (I like the look of 'bling'). (I just don't like saying 'bling'). (Believe it or not).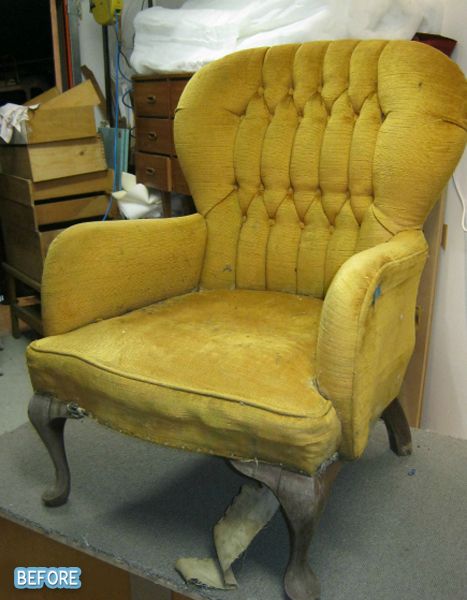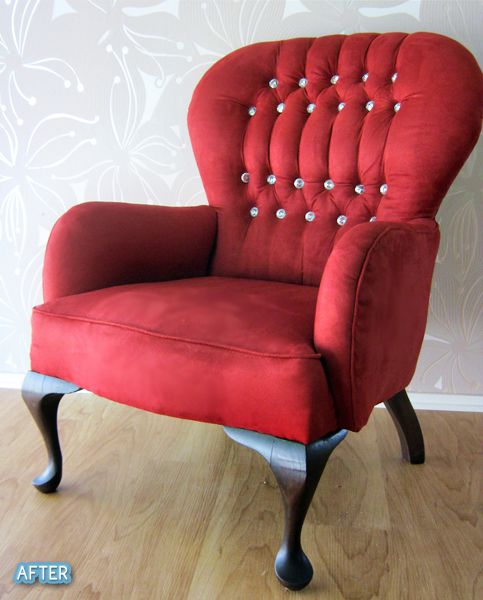 Have a fabulous weekend!

This post brought to you by: