Hey there!  I am sending you a few favorites from the archives for
the next few days, as I am away on a very last minute trip to LA. My
sister scored us tickets to this week's taping of So You Think You Can Dance, and I'm so excited I can barely breathe.  Follow our adventure on Instagram @betterafterlnz if you'd like!
Originally posted April 27, 2011
Raise your hand if you use your formal dining room more than five times a year. If so, congratulations to you and your fabulous life full of gourmet dinner parties and sparkling conversation with your interesting and fashionable friends. The rest of us use it for folding laundry.
Christy decided to reclaim her formal dining room into a space that would get a little more daily action. After all, what is the point of even having all that square footage if you literally spend more time in the garage? So she went against the norm and made it into her own private craftopia! I'm jealous. See more on her blog
Beach Brights
. Thanks Christy!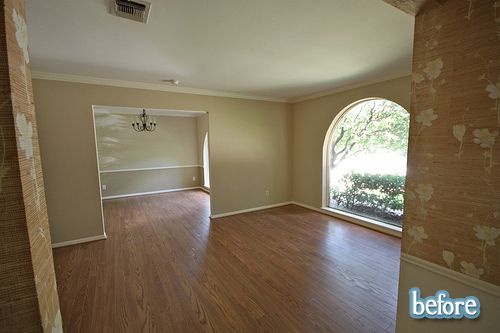 ---