I can't tell you how many fruitless hours I've spent looking for that perfect coffee sack to reupholster my chairs with.  Actually, I can. Zero hours. But Emily, who had her heart set on recovering this lonely chair with a coffee sack, was well acquainted with the frustration of sack-shortage.  Apparently, they aren't that easy to find. So she figured, "Why not make one myself?"  Then she did!
She washed a few burlap sacks several times to soften them, then reupholstered, THEN stenciled on the lettering.  Easier that way, when the fabric is taut.  Looks great!  I love the stripe and the gray numbers here and there. See more on her blog Fay Grayson Home.
And if that lonely chair ever needs a friend, it should buddy up with this demi lune table from Faye at MacGIRLver.  Wouldn't they look so cute together?  I should be a furniture matchmaker or something.
PS: Don't forget to enter the Shabby Apple giveaway right here!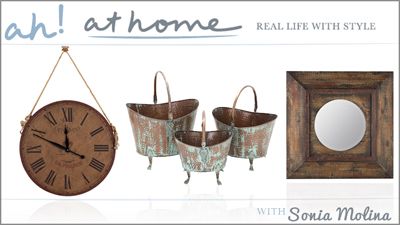 Flash sales, candles, unique home decor, and more.