Every now and then, I get a little stockpile of random before and after projects. And here's a secret, the random ones are my favorite. For example: a fridge makeover!  Ha!  Crazycakes! That just makes my day.  Let's enjoy them all now:
Item #1: A barbeque grill makeover.  Didn't see that one coming I bet. Technically it is a 'smoker,' which Janette found on Craigslist for $20.  You can check out exactly how she made it look worth at least five times that on her blog at
Style With Cents
.  I think it involves setting it on fire!
Do you like Nate Berkus's new line of housewares at Target?  Me too.  Nate Berkus is the best. Jenna is a fan too, but figured she could DIY herself up a similar look on her lacquered tray without spending nearly as much cash. She use brass studs from JoAnn's which look great against the flat paint, and just stuck them on with Gorilla Glue.  See it in action on her blog My Life By Design.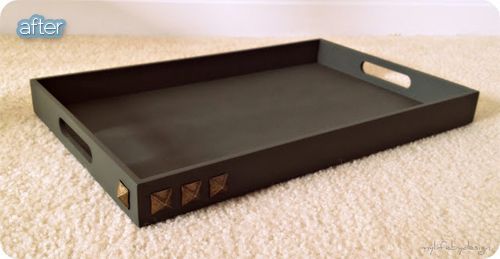 Sonja's little shelf had lived many lives.  A craft storage area.  A crap storage area. And finally, a jewelry storage station!  Sometimes you just have to look at your old stuff with a new eye to discover that it could be something better than what it is. For instance, I use a belt hanger for my necklaces. But that's probably because I never really had belts until yesterday.
See more from Sonja on her blog Craft-Werk.
Your guests deserve to know that you care about them. So why not freshen up your card table and folding chairs for a nice surprise when you've got extra company?
It says "I care about you!  I made this temporary item that I rarely use cute just for you!" Rather than, "I just pulled these out of the garage; you might want to check for dead spiders."
From Better After reader Becky.
I've seen old doors used for lots of things, like headboards, tabletops, benches, and even doors.  Here's another use for an old door: a fabulous coat-hanger.  I love the stoop at the bottom, and the crown moulding at the top, it really finishes it off.  From the ever talented Sarah at
Funcycled
.
It was love at first sight when Virginia discovered this outdated print at a thrift-store.  Maybe not love, exactly, maybe more of a "I can't wait to get my hands on you" lust.  Sort of.  Anyway, she took it apart and made it into the awesome sequin art that it is today.  LOVE it.  Check it out on her blog Live Love DIY.
And now, I wasn't kidding, it's a fridge makeover!  Katie wanted a built-in fridge, but wasn't willing to part with her old fridge, which hadn't given anyone any problems in years.  You just don't break up with a trusty fridge like that.  She added pieces of trim with Liquid Nails and painted the whole darn thing to better blend in with her cabinets.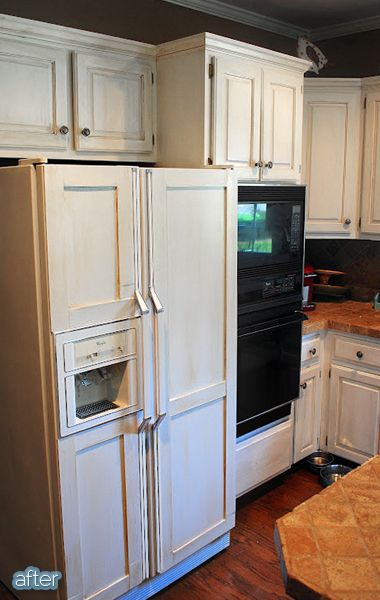 Have a great weekend friend! Thank you ever so much for visiting my blog and generously sharing your work with me.  You are simply the best!