Somebody once spent a lot of time and effort cutting rocks into triangles and cementing them to the bottom of this defenseless cabinet.  I'm sure it was … cool … at the time?  Sorry to whoever that was, because Better After reader Lesli came along and chiseled them out as soon as she got the chance, replacing them with a lovely fabric and a new white paint job all around.
Even though it looks a hundred times better now, I still feel a little bit bad for whoever that schmuck was. But then again, someday our children will probably say something like, "Oh my gosh mother, you painted grandma's mahogany buffet TANGERINE?!" And we'll shrug and be like "It was cool at the time!"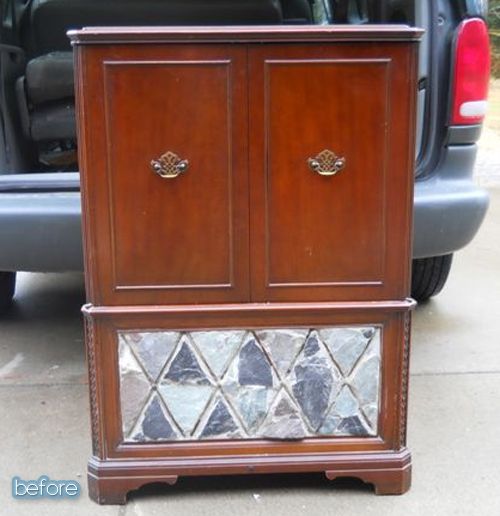 PS: Thanks for all the stinky washer tips.  I probably should have clarified that I do not own a highfalutin' front loader HE thing of beauty, just a regular old top loader.  But, someone kindly sent me a great link to help you destink either one!  Check that out right HERE.