Judging by the news, and by the news I mean Facebook, it sure has snowed a LOT in many parts of the country.  Not my part of the country, of course, but I am wearing full-length pants today, so indeed, brrrr!
So here comes a bunch of high voltage colors to jolt you out of those wintery grays.  And if your kids had to stay home from school, well, gather them around the computer too, because these makeovers are just their style.
First, Shanna at Restoration Redoux fixed up this set of furniture for the bedroom of two little girls.  It was sturdy, but had plenty of water damage, which little girls think is like, way uncool.  She was able to fix the damage, paint and wax it to a shine, and deliver it just in time for Christmas.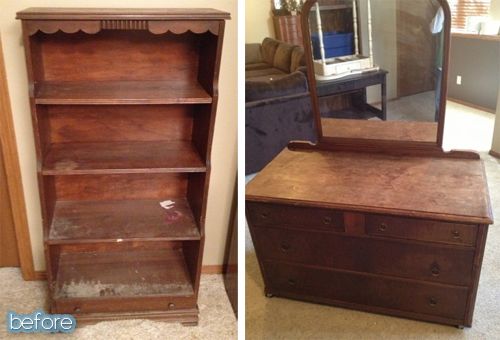 I almost feel bad posting this one from Better After reader Jennifer, but then it also makes me giggle wickedly.  Apparently her cousin had sent a dresser to a "profeessional" to have it painted up cute for her daughter's room.  The before picture you see is the outcome.  Yikes!  This is actually the improved version, because there was originally ribbon hot-glued all over it too.  And those flowers on the side?  C'mon.  Unless she literally hired a 3rd grader, she really didn't get what she paid for.  Luckily Jennifer came to her rescue and her rendition was clearly a winner.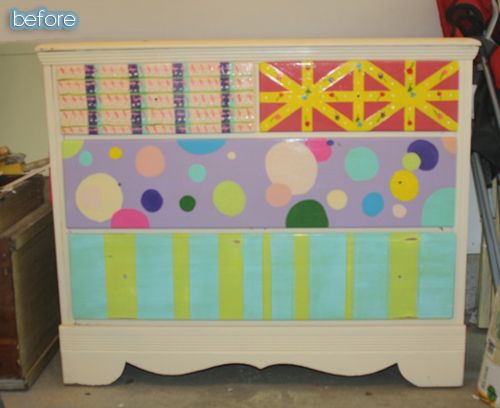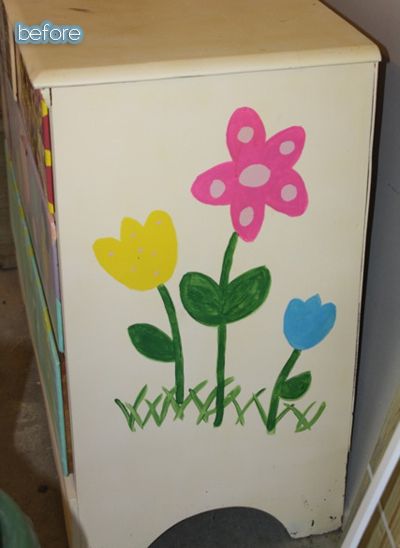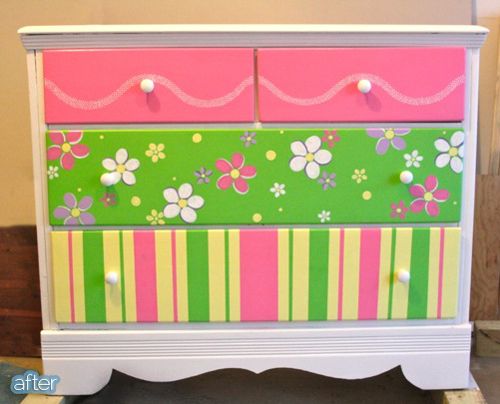 Crafty Jennifer also made this cute little kitchenette for her two-year-old daughter for Christmas out of an old bookshelf and a kitchen cart.  She wasn't quite sure how to make an oven,  but then she realized that if she turned the cart on its side, it made a perfect oven door.  I thought that was pretty ingenious.  Grand total: $60.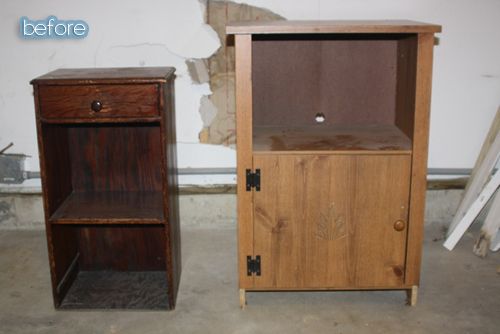 And here is some more repurposing action by Courtney at Following Inspiration, who was faced with this question:  What do you do with a hutch originally meant for the the top of a desk, when you just want the desk by itself?  I suppose you could prop it against the wall and make a bookcase, but it would still look like quite obviously like a hutch.  Unless! You added a shelf to the bottom and gave it feet like she did.  Bam! Bona fide bookcase.
And finally a sweet set of chairs from Sharon at Elizabeth and Co. who helped salvage these rummage sale finds for three granddaughters of a friend.  Her fun paint colors were Beach Towel, Wild Grapes, and Citrus Blast.  The names on the seat are a really cute touch, and they were such a big hit, she's taking orders!  I just made that up, but she totally could be.
Happy weekend friend.