Whenever one door closes, another one opens, you know that saying?  Well, whenever your car breaks down, and you have to walk home, you might walk right past a house with a bunch of free furniture in the yard and come home with a dresser.  It's basically the same thing.
That was Better After reader Marilynn's experience with this cute little dresser that she dragged home and cleaned up.  And she gave a much more logical paint job, which included painting the inside of the carved design to really show it off.  You couldn't even see it before!
This next dresser had a long way to go for redemption, but Reeves was patient and brought it back to life.  All but that puzzling damaged top … what to do, what to do? Then it dawned on her … mom!  (Moms are the best).  Paintable wallpaper: a perfect inexpensive fix to hide the damage and add a little extra oomph. Almost looks like a carved design too! Love.
See it up close at Reeve's blog, The Weathered Door.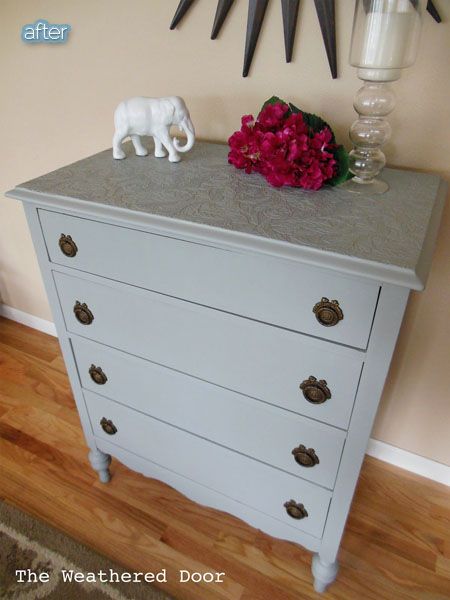 This post brought to you by: