I liked two things about Leslie's before bedroom here. The giant mirror and the trey ceiling. Luckily, they both stuck around for the big redo. Not that the ceiling was going anywhere, but it looks even cooler in the after. Or should I say warmer? I'm a firm believer that bedrooms shouldn't be blue, because brrrr!
Check out more from Leslie on her blog DIY Diaries.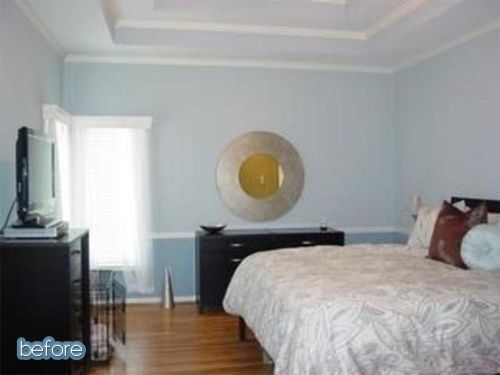 And here comes another bedroom makeover from Better After reader Shelly who finally reclaimed her bedroom after living with an olive green color that she hated for too long. One time I painted my bedroom a color that I hated. It lasted for 30 minutes. Life is too short to hate your bedroom!

It's now a gorgeous gray with a lot of Shelly's DIY touches to – sorry to sound like Randy Jackson – really make it her own.