Big bang, not a lot of buck? Bad news if you're a deer hunter. Good news if you're redecorating your living room! I love how the simple changes that Christina made to this living room made an instant difference. It wasn't so much what she added, but what she took away, like the heavy leather furniture and the large rug that were sucking the light out of the room.
She also had to convince her husband that the hunter green fireplace had to go, and that made me laugh, because I just had a similar conversation with Matt in which he claimed not to know what hunter green even WAS. Like, hello? Did you sleep through the '90s man?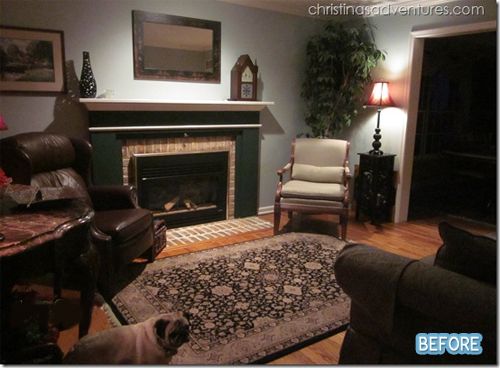 And Better After reader Rita also recently made over a fireplace, specifically, THIS fireplace that had been staring her in the face for 19 years.  Finally, the day came when she couldn't take one more minute of its angry glare and gave it the makeover they both deserved.  Is it inappropriate to think that tile is sexy?  Shhh. Don't answer.