So, the last time I wrote about bathroom vanities, someone pointed out that I spelled the word "vanities" wrong in the title of my post, and it's given me some kind of spelling complex, because now it takes me like 13 tries to spell it right.  It looks wrong right now.  Hang on. I just Googled it to be sure. It still looks wrong. Anyway. I'll just call it something else. Here are some great sink-and-mirror-areas-located-in-the-bathroom.
This one comes from Lindsay at A Walk In The Closet.  Simple changes: paint, light, and a frame around the mirror, and it looks so much better.  Framing the mirror is the best way to add sha-jazz to any bathroom, in my expert opinion of having opinions.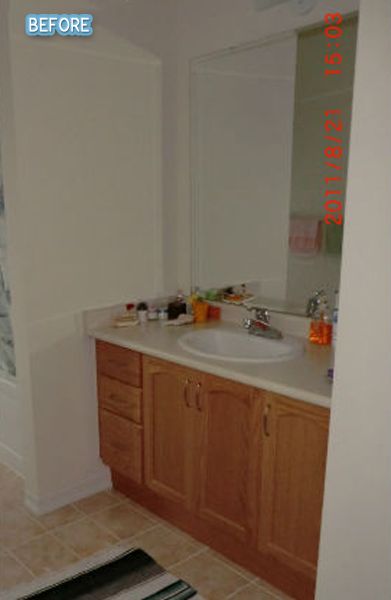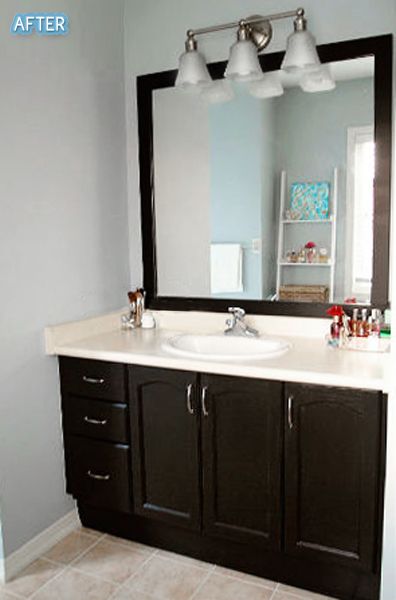 Danielle at
My EnRoute Life
framed her mirror too, but the biggest change was a new countertop.  Just kidding!  It's not new, she just faux-granitized it with paint.  The fixtures aren't new either, they just got a little updating with oil-rubbed bronze spray paint.  (That's the best kind of spray paint, you know.  If you ever get invited to one of those 'Favorite Things' parties, that's what you should bring).