Happy Friday!  Let's kick the weekend off right with some bathroom makeovers!  (Those words have probably never been said by anyone looking to kick the weekend off right.)
And actually, I'm not looking to kick anything off right, because I think I have broken my foot.  I dropped a weight on it at the gym on Monday and it's still killing me today.  Lest you think I am some kind of gym-animal, it was only a 10 pound hand-weight.  I am not buff.  I probably should have iced it right then, but I decided to pretend that it didn't hurt and continued working out, just in case anyone was watching, but seriously man, it hurt.
Anyway.  Kicking off.  Here we go:
This bathroom comes from Better After reader Vanessa who was forced to renovate after a broken pipe flooded the entire first floor of her home. Darn.  Shucks.  What a shame to have to part with those shell sinks and tiny shower.  The new look is fabulous, I'm really loving the separate vanities and softer shade of  blue too.
And here's a cool solution for a small bathroom from Amanda at
NorvelLove
: Shrink the vanity!  Look how much floor space she gained by swapping out that clunky old vanity for a sleek and narrow design.  Hop on over to her blog to see all the details up close.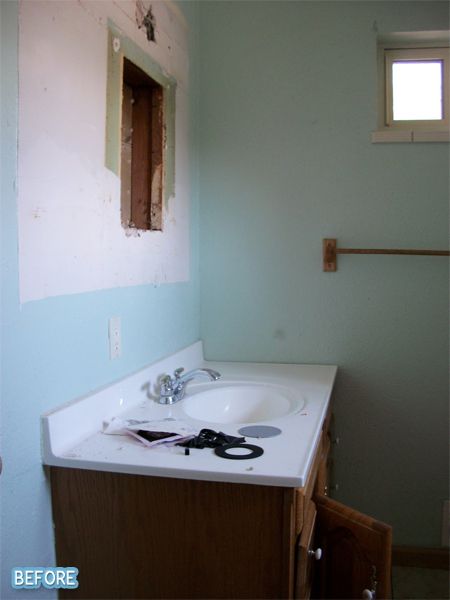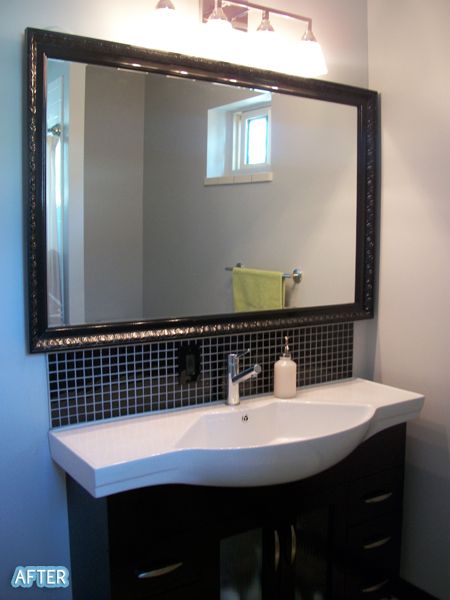 This white-done-right bathroom from Rita reaffirms my dreams of someday having an all-white home.  That dream is not so possible with kids. Some people say, "Oh, you can totally have white with kids! Just Oxyclean it!  Bleach it! No problemo!"  Lies. Those people have never met kids. 
See how Rita customized this IKEA vanity on her blog
Suburbs Mama