Hey everyone!  I kind of figured out Instagram!  This is a big deal for me.  I'm usually the last person on earth to hop on the hip train.  I usually wait until the hip train is exhaustedly lurching into the station.  While you're at it, check out my MySpace!  Kidding.  But anyway, do you want to follow me?  I solemnly swear to never post pictures of my feet.  You can find me and all seven of my pictures under
betterafterlnz
.
And for your before and after viewing pleasure, get a good look at the following makeovers from Barb at
Turtles and Tails
.  First she streamlined a set of ottomans, which were definitely the frumpiest things that ever frumped.  But now they are sleek and even rocking one of fall's hottest trends: corduroy!  Such fashionistas.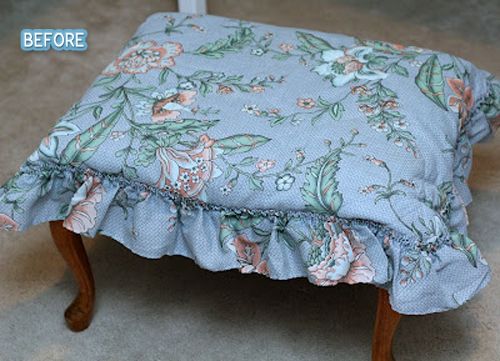 I also love what she did with this plain old stool.   First she painted it. Then stained it.  Then aged it.  Then freezer-paper stenciled it.  Then twined it!  That's a whole lot of neat on such a small seat.  Oh, I'm a poet. See the stool's saga on her blog
Turtles and Tales
.