Let's make a list together.
Things that aren't great chunky: milk, cell phones, applesauce, smoothies.
Things that are great chunky: babies, peanut butter, sweaters, gold chains.
Also, these chunky furniture makeovers.  They are chunkadelic.First from Shanna at Restoration Redoux who lightened up this dresser and removed the mirrors, which helped remove about three decades of age from it as well.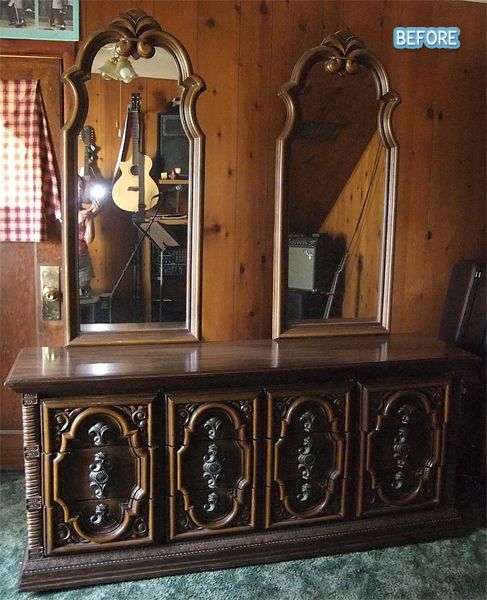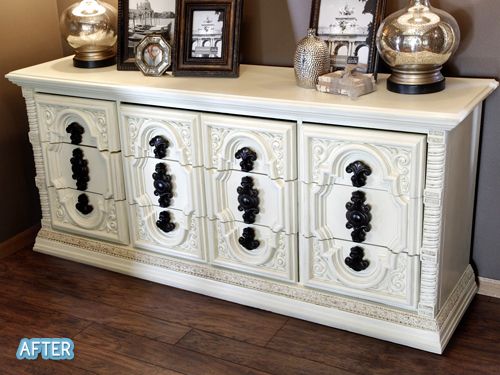 And check out this former gun rack turned "Beverage Acquirement Region," or "Bar," for short.  That's what 'bar' is short for, right?  Kidding!  From Better After reader Lisa.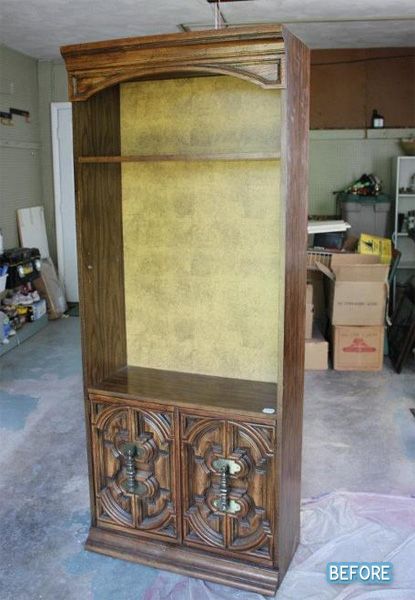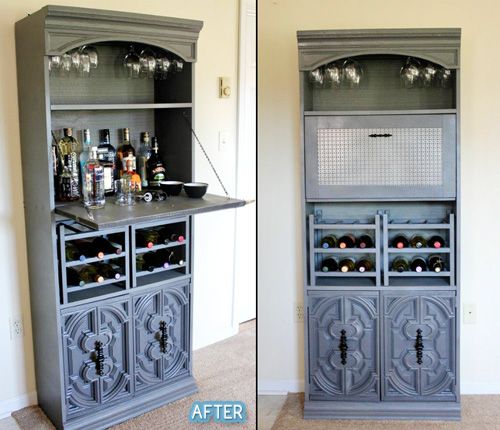 This post brought to you by:
DIY. Home Decor. Furniture Redo's. Ya know, crafts n' stuff! 
Lynn: closet to bathroom….
Thank you for your fabulous blog – it is a true inspiration for all of us pickers and re-purposers.
Attached are photos of our master bath renovation and here is the story:
This room was originally a small bedroom in the lower-level walkout of a "sad, neglected home."
Believe it or not, most of the rooms in this home looked like this, or worse, when we purchased it.
After scrubbing away the mold and removing the old paneling and flooring, we installed a closet
system and happily used this room as a master closet for many years.
One day I asked myself, "Why does our master closet have a lakeview?  It really should be a
beautiful, sun-filled master bath."
We brought out the jackhammers and tore up concrete floors to install underground plumbing,
then I found the vanities at Menards which were cottage white with chocolate glaze.  These were
my inspiration for the room's design.
From a bedroom, to a closet to a master bath – this room finally has reached its full potential and
we never tire of being surrounded by its beauty.  
Thanks again for your daily dose of renovating – for those of us who can't get enough of making
a silk purse out of a sow's ear, your blog is perfection!
---