Today I am headed across town to visit my boyfriend.  I haven't seen him in awhile.  He's big and blue and smells like meatballs.  His name is Ikea.   I'm so excited!
So here is a ol' big bunch of table makeovers to keep your before-and-after appetite satiated in the meantime.  Or maybe I'll bump into you there! Say hello! Don't worry, Ikea can be your boyfriend too. There's enough of him to go around.
First up is this neat copper-toned table from Meg at
A Little Knick Knack
.  Looks so cool, but probably quite simple to recreate yourself with painters tape. And the copper stripes remind me of Arizona!  Copper IS one of our 5 Cs, did you know that?  Copper, Cotton, Cattle, Citrus, and Climate.  Now you are smarter. Whoops, I just reread Meg's blog.  She actually used gold.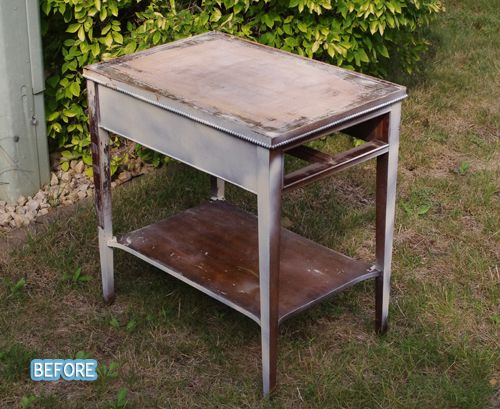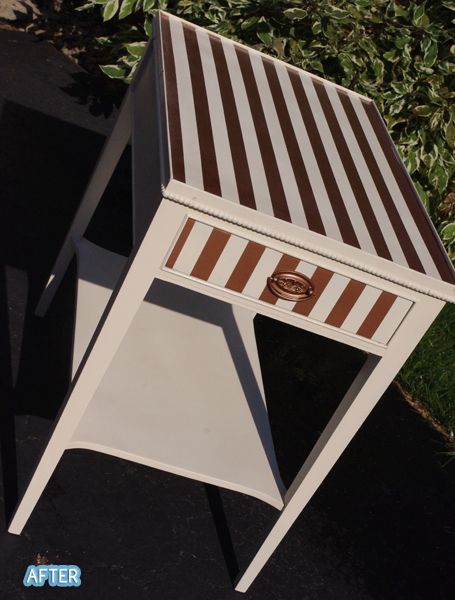 Kathleen at
Between Blue and Yellow
somehow resurrected this table top, and look at the loveliness that was hiding under there.  She gave the base a weathered look that reminds me of oxidized copper, because apparently I can't stop thinking about copper today.  I blame my recent bout of insomnia.  (It's the worst!  I'm open to any suggestions).
And the rest …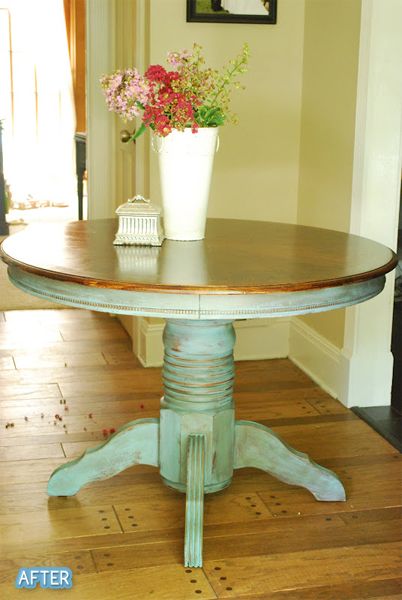 This cute little table comes from Better After reader Cathy who had been bitten by the makeover bug. She didn't have a lot of space to work with in her small apartment, but had to scratch that itch!  Luckily she found this perfectly-sized $10 table, and ditched the ivy stencils for bright red and a lot of pizzazzle.  I thought that was a word I just made up, then I googled it, and there are like, 45 blogs named Pizzazzle.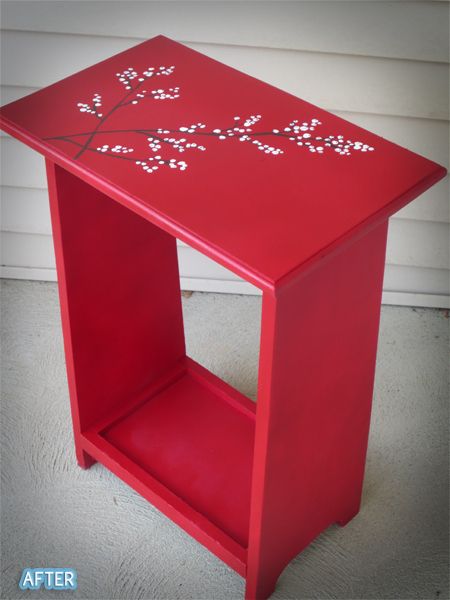 And speaking of stencils, but in the opposite-of-lame category,  here is a lovely stenciled coffee table from Laurie at
House to Your Home
. I love that it's noticeable without punching you in the face with stencileyness. You know? It just looks natural.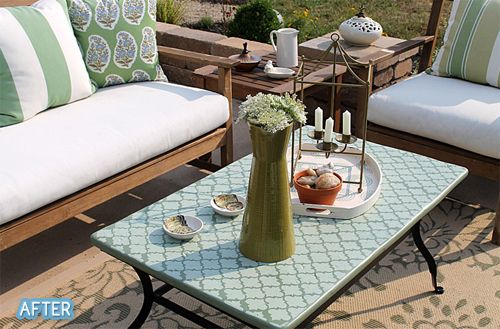 A co-worker helped Katie drag this table in from the curb, and it stayed in her office until she figured out what to do with it.  Finally she decided to accent it with the same color on her bulletin board, Mermaid Treasure, which has my vote as the best paint color name ever.  The stripe around the edge of the table reminds me of when Martha Stewart did a bright color along the inner edges of her doors, did you see that? She said it was like lipstick for your house. Ha! I love it.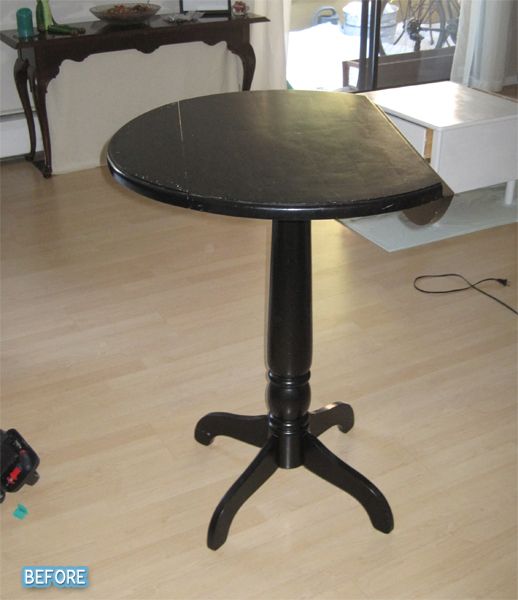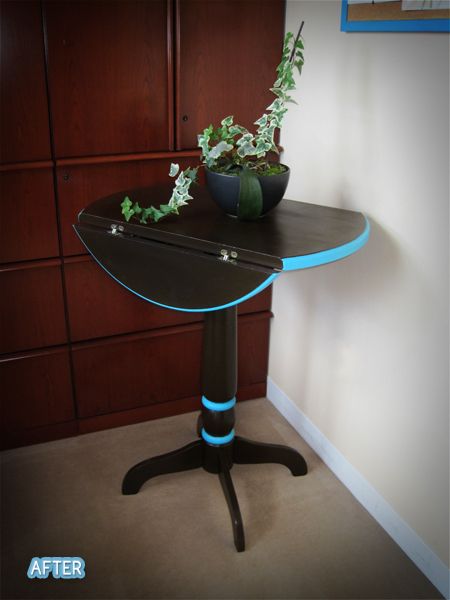 Susie sassed up this $5 table that she found on Kijiji with a little black and white damask action.  Actually, that is not quite the truth, because she paid $5 and got THREE tables.  What!?  So this table was … hang on … $1.66.  (Yes, I did pull out my calculator to do that). Smokin' deal.  Head on over to 
Susie's Sassy DIY's
to see what she did with the other two.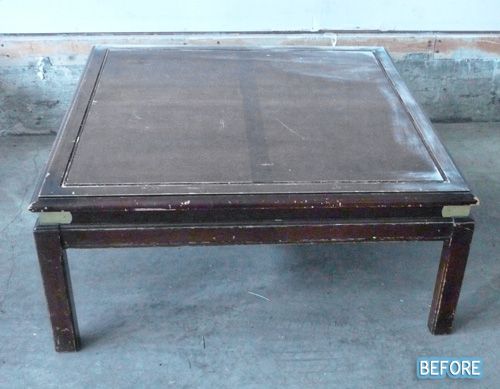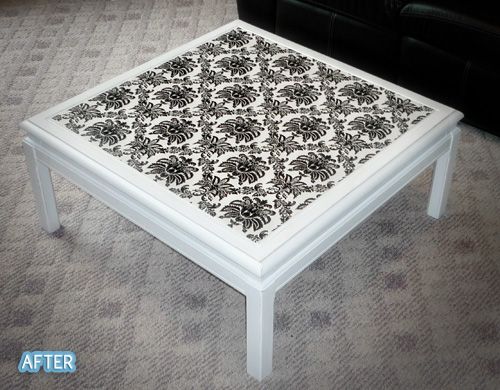 At first when I saw this table makeover from Kirsten at
Made For A King
, I was like, "Oh no you di'int!  How could you paint over all those intricate carvings?"  Then I realized the "carvings" were actually stickers, and was like, "Never mind.  Carry on with yo bad-self.  Stencil that mug up, yeaaah!"  (I don't usually talk like that. It's probably because I watched the VMA's last night.  Holy smokes, I am too old for that show.  I felt like I was having a stroke the whole time.)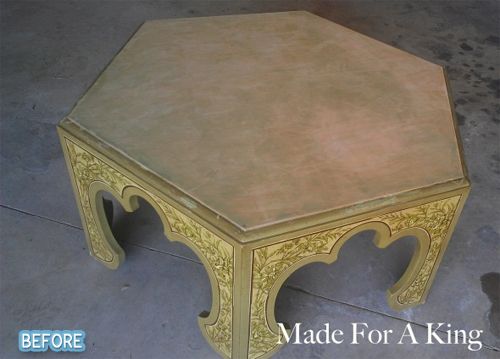 And finally, if this awesome table makeover form Marci at
The Vintage Lemon
doesn't make your heart go pitter-pat, then I don't know what's wrong with you.  See a doctor or something.  She de-Batman-ified with a soft white and a touch of distressing, which really brings out it's girliness, I think. Simply gorgeous.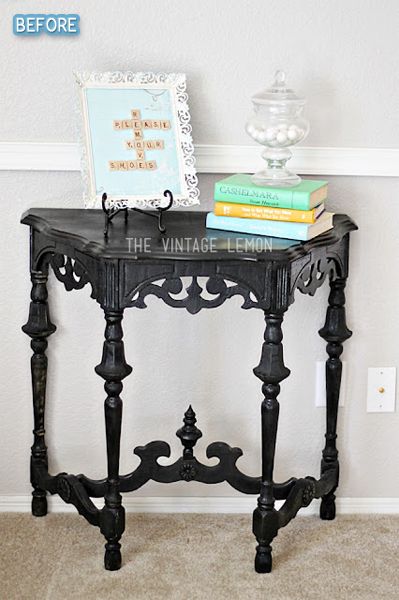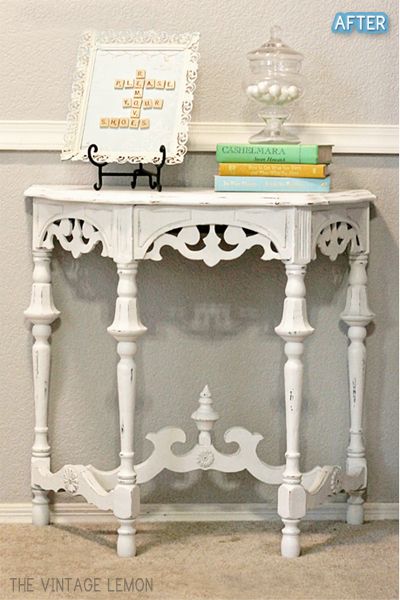 Whew, that's it!  I hope you have a great weekend!  Why don't you go hit the yard-sales, find some projects, paint them up pretty and send them to me?   I would love to see what you are up to.
As for me, it's meatball time.