Buckle up your tool belt, because today's makeovers involve more than just a simple coat of paint.   They require things like hammers and nails, and the imagination to see what a pile of boards has the potential to become. (Plus the skills to construct them.  That helps.)
Like this project from Better After reader Kim that started life as a few boards from Home Depot and three crates from JoAnn's.  But with the addition of casters, brackets and a coat of gray wood stain, she created an industrial coffee table!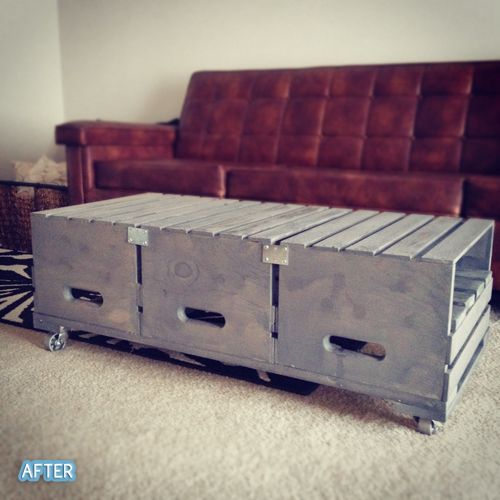 This one requires even more imagination.  Brie at
Darling Doodles
had a big, empty entryway and was determined to do something about it.  She liked a certain entryway bench she saw in a magazine, but for $299, she knew she could do better.  She ended up saving $279 and Frankensteined one herself with plywood and some old tables parts that were headed to the dump!   I think it looks sturdy and sharp and even better than the $299 version.