Well, this has been one crazy week at Casa de Allen. We've had a ton of out-of-town family staying with us because my little brother Spencer and fiancé Candice got married yesterday!  You want to see a picture?  OK:
 Yay!
  Aren't they adorable?
So before we head up the mountain for their reception this weekend, I will leave you with a few fun and easy makeovers.  I often hear from renters and apartment dwellers who are bummed because they can't paint or don't have a ton of room to redo some great big item of furniture.  I hear you! These projects are small and simple, and perfect for adding a little makeover magic to any home.  You should all makeover something today!
Like Leigh Anne at
The Butlers
, who made over a picture frame and some … Cheeto cans.  Ha!  Cheeto cans!  They are fabulous.  I love them and wouldn't even care if they made my pencils smell like manufactured cheese.  Actually, I'd call that a bonus feature.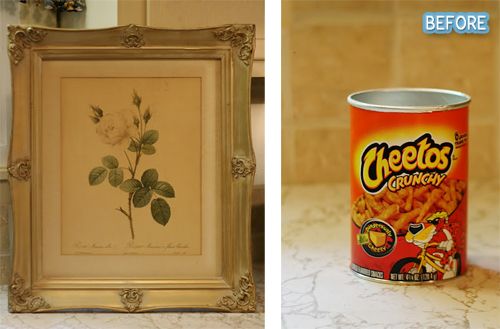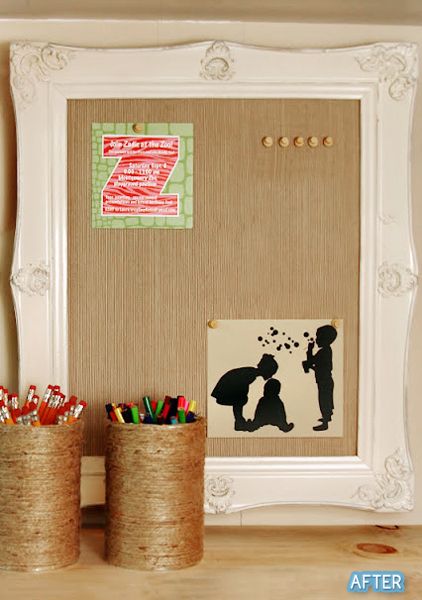 Pepper at
Salt and Pepper Makers
couldn't pass up this little jewelry box she found at a thrift store, and took more time and care in redoing it than I have probably spent on any item of furniture in my life.  Seriously, go read her step-by-step.  Turned out beautifully.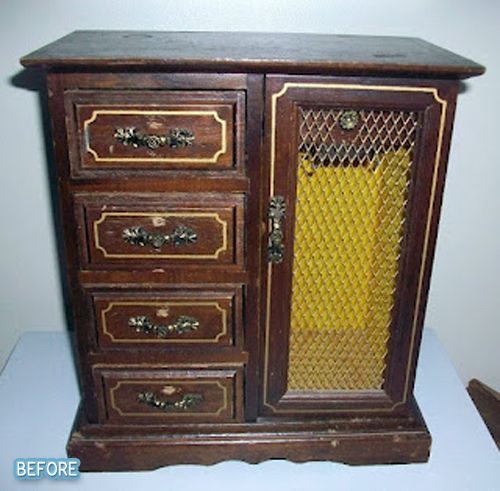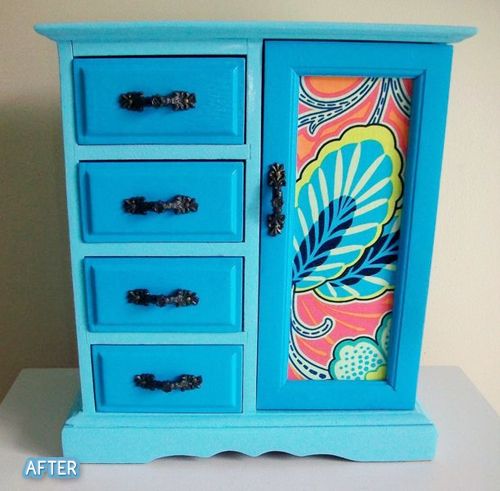 Erin shows us that inspiration is a crafty muse and can strike at any time. Maybe even in the form of a West Elm peacock soap-dish.  So don't question inspiration.  High-five inspiration and go paint that soap-dish peacock anywhere you want.  Like Erin did, inside this big hexagonal tray for her ottoman.  See more at
His and Hers
.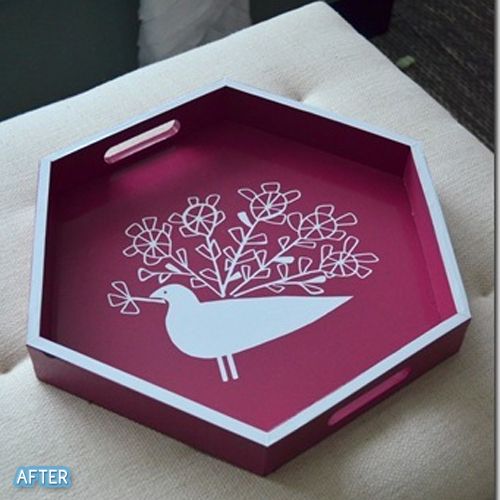 If you are a chronic maker-over-er, a do-it-yourself diva, a recurrent rehabber, then someday you will reach a certain point in life.  A point when people automatically think of you when thy find junk next to the dumpster.  They will drag it to your house and deliver it to you with great joy, excited to see what you will dream up.
Ashley at
Domestic Imperfection
has reached this point, and recently received this old mirror frame.  She surely didn't want to disappoint the friend who lugged it in from the curb for her, so she turned half of it into a sweet little chalkboard that looks so pretty against the white wall.  And see what she did with the other half
HERE
.  So cool!
This post brought to you by:
See which of their four lines is right for you.