Since I am gearing up for the Ugly Lamp Contest (which will begin next week), I thought I'd set the mood early with a few fabulous lamp makeovers. Keep in mind, however, there is no makeover magic happening during the Ugly Lamp Contest.  It is purely, completely, 100% ugly lamps, nothing more.  So you've been warned. Start preparing your eyeballs now.  Maybe some daily stretching or something will help.
But for now, enjoy these lovely lamp redos coming your way!  
This lion lamp started out as a project by Nichole at
Mommy Diaries
, who went a little craftin' crazy when she realized she was going to have a baby! Totally understandable. They should have a name for that, seriously.  After awhile, she realized she
really
wasn't feeling the lion love, so she changed gears and went for a neutral nautical theme instead.
Better After reader Lindsey bought this brassy lamp for $5 at a thrift store, used some paint she had on hand for the base, and raided her fabric stash to cover the shade.  So her grand total came to …. $5!   Looks ten times that, at least!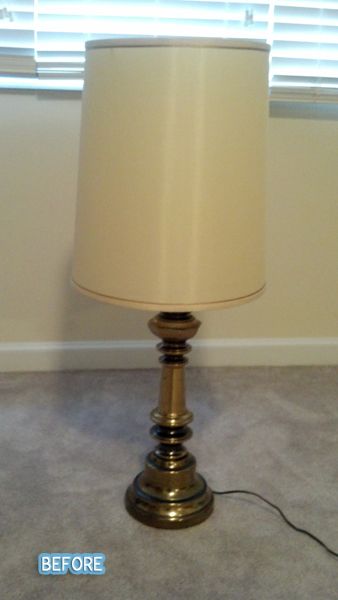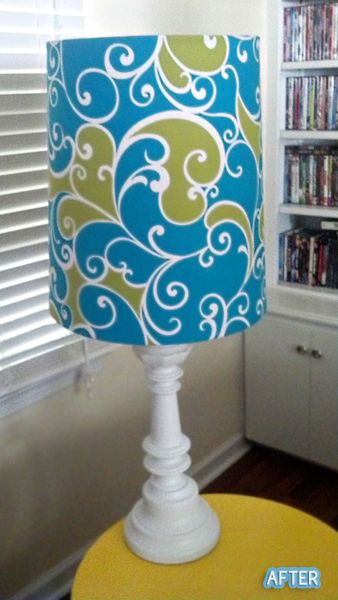 Wowzers.  Check out the shade on this thing!  It's so … um … curtainy? Which is why Kristen from
Ella Claire
ditched it completely and focused on the base instead, which is actually quite cool when it isn't competing for attention with Pleaty McDrapeyshade.  I've been dying to try this 'ghost shade' look myself — not to be confused with the 'haunted movie theater' look that this shade was formerly sporting.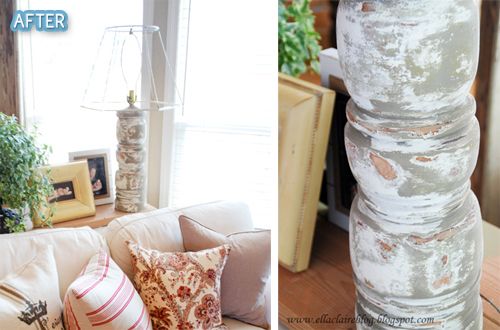 And finally, a lamp that couldn't be more '80s if it was rocking a set of teased bangs and listening to NKOTB on a Walkman, gets a fresh shabby chic look from Better After reader Connie. I never would have predicted that this mauve meatball could look so modern.  Nice work Connie!