So, I really can't stand how stores prepare you for a season two seasons in advance.  I don't want to buy swimsuits in January, nor sweaters in June.  Christmas displays long before Halloween?  Back to school stuff while my kids are still in school?!  It makes me cranky.
However, I will continue to enjoy the fact that patio furniture goes on clearance at the end of summer, because that's when patio weather is finally beginning here in Phoenix. But if you only have a few weeks left of summer, don't bother hitting the sales.  Just rehab what you have!  Like Laura from Top This, Top That who salvaged this sad set with snazzy outdoor fabric.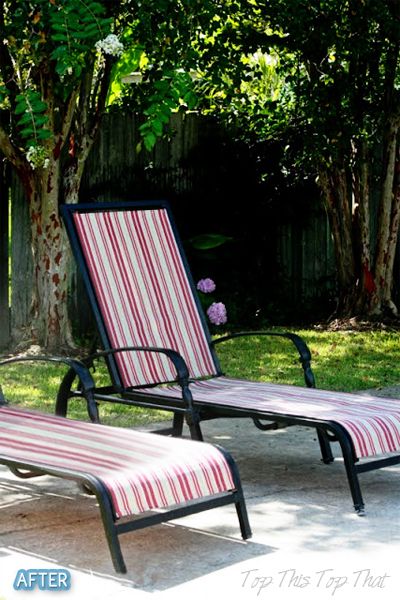 And Nicole from
The Recycled Rose
, who revived a set of hail-damaged chairs for a friend. (OK, it has been noted that these are not the
exact
same chairs.)   Her friend was originally from North Carolina, so Nicole mixed a little North Carolinian flavor in to the makeover.  (Hint: it's the state flower). 
Pop quiz!  Can you name your state flower off the top of your head?  No peeking!