Well, I'm back home and ready to show you some of the scenes from the Hidden Treasures Adventure! (Sorry to keep you waiting, blogging from the road is incredibly difficult.  I'm convinced now that an iPhone is no longer a luxury, but a NEED! My crappy piece of crap phone could not keep up.)
Anyway, to get you up to speed, last week
GMC and OnStar sent a team of six DIY bloggers
on the road for an adventure through the World's Longest Yard-Sale.  We were provided 2012 Yukon XLs to drive, and started in Michigan and ended in Alabama, collecting yard-sale treasures along the way.  When we arrived to our final destination in Alabama, we used the things we found to furnish and decorate a Habitat for Humanity home for a single mother and her two kids.
It was the most rewarding and exhausting thing I've ever done.
Like, ever.
We were given a $250 budget and drew names for which room we would work on, and I drew the little boy's room.  I was told his name was Jaydon, he was in first grade and liked superheroes and Transformers.
After traveling and shopping the yard-sale for four days, we ended up in Birmingham, Alabama on Sunday to an entirely empty house we had never set eyes on before, with only five hours to completely transform it.
Here is what I did:
And now, the other side …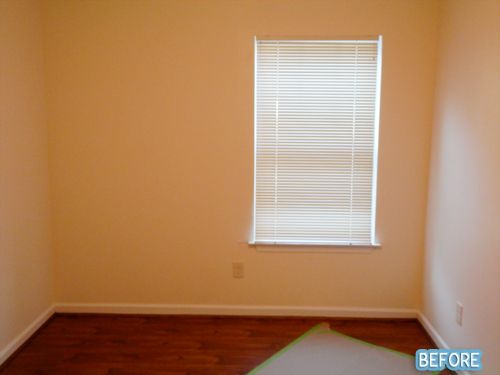 I was really happy with how it turned out! Especially considering that The World's Longest Yard-Sale does not exactly cater to six-year-old boys who love Transformers and I was having a panic attack by the end of the second day when I was halfway through the trip and had only spent $20.
Here are a few detail shots: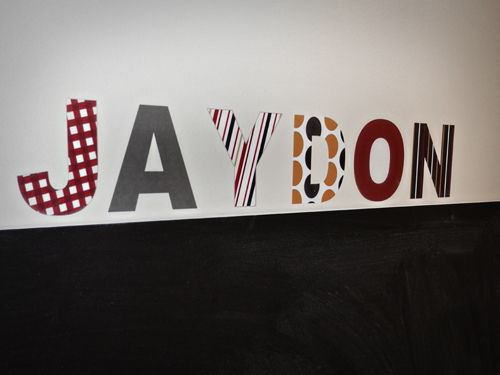 Leen the Graphics Quee
n graciously donated AND overnighted our choice of wall decals to us when she heard what we were doing. Awesome.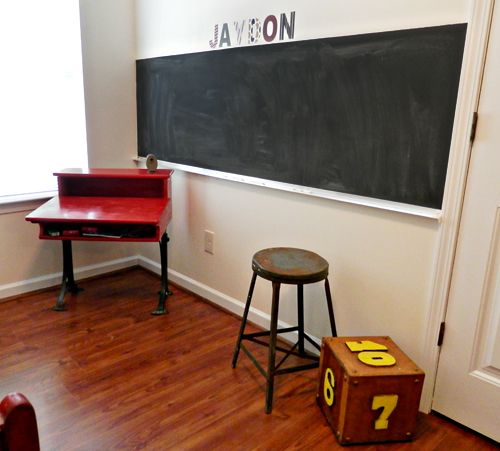 In the blogging world, chalkboard paint is no big deal.  Who hasn't heard of chalkboard paint? Everybody has. But I learned that in the real world, people are still amazed by it!  I got by far the most comments and questions about this little stripe of chalkboard paint than anything else.  The chalk rail is actually a strip of old closet track that I found for $3. 
The little school desk came from the Habitat ReStore in Detroit, who let us each pick one item for free from their store.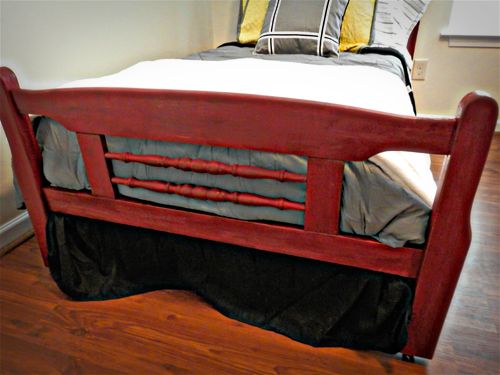 This bed was a great find, only $20.  When I bought it, I was afraid it was going to disintegrate in my hands, it was in such rough shape. It had obviously been sitting outside for years.  In fact, I still have splinters. But after an evening of sanding, spray-painting and staining in the empty field next to our hotel, it looks old and distressed on PURPOSE!
Pillows were a thrift-store find, bedding I bought new at Wal-Mart, and the curtain was a 50 cent shower curtain I cut and painted.  Here are a few more prices, the rest of my budget went to paint and supplies.  I had wanted so badly to find an awesome antique dresser with a ton of character  but it was not to be. Instead, the owner of a Dunlap thrift store gave me this brand new one, still in the box for $15.  I painted the handles yellow to match the room and called it good.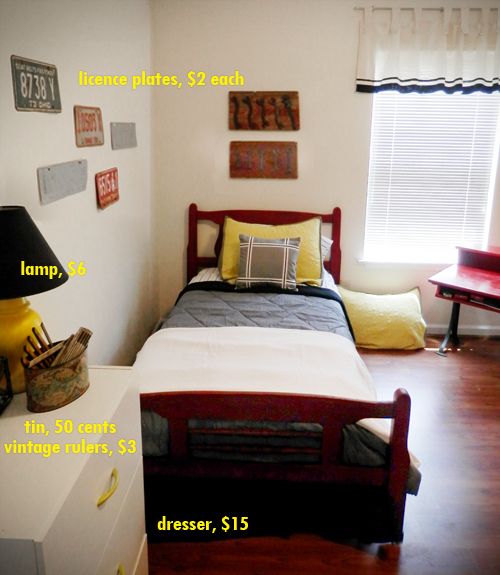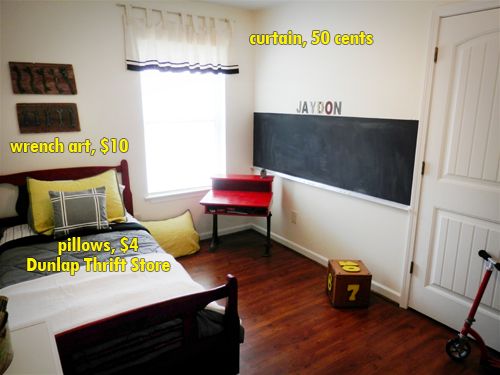 I have so much more to share, I can't wait to show you the room transformations from the rest of the team!  If you want to see more right now, you can check out my
Facebook album
with lots more photos of the yard-sale and our adventures!
It was so absolutely amazing  to watch this little family who went from sharing a single mattress the day before walk into their own fully furnished home. A home that was all THEIRS! Rooms and beds and toys to call their own.  It was the most overwhelming and gratifying feeling.  Lots of tears were shed.  
Thank you GMC for including me in this incredible event.
More transformations to come. Now, I must nap.