Today I bring you the final reveal of the Habitat for Humanity home that five fellow DIY bloggers and I helped decorate last week.
To recap: GMC awesomely organized this whole affair and sent us out along the World's Largest Yard-Sale starting in Michigan and ending in Alabama to find 'hidden treasures' to help decorate and furnish a home for a single mother and her two children.  We were each assigned a room at random and given $250 to furnish and decorate it.
Donna, the mastermind behind the blog
Funky Junk Interiors
, was in charge of the master bedroom.  If you ever get a chance to hang out with Donna in real life, you will come away a better person, I promise you.  It was so cool to be able to watch her creative genius in action, and look at things through her eyes.  For instance, I would see nothing but a heap of dirty junk, whereas she would be excitedly paying for it. She always managed to transform it into something beautiful.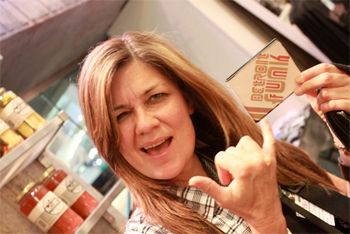 The bedroom was another challenge, because the homeowner Alexcia had her own bed, which was arriving after we decorated.  So use your imagination and pretend there is a bed up against that sweet headboard that Donna built with an antique mirror and old door.  (The door was so filthy, she had no idea what color it actually was for a few days until she got a chance to wash it, ha!)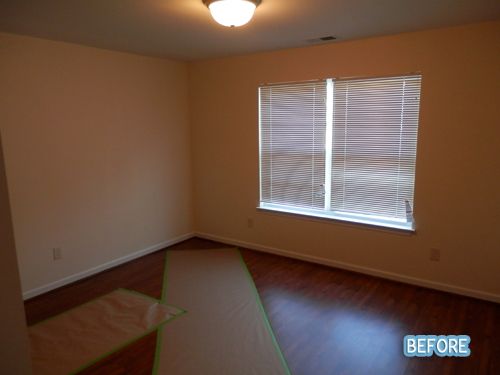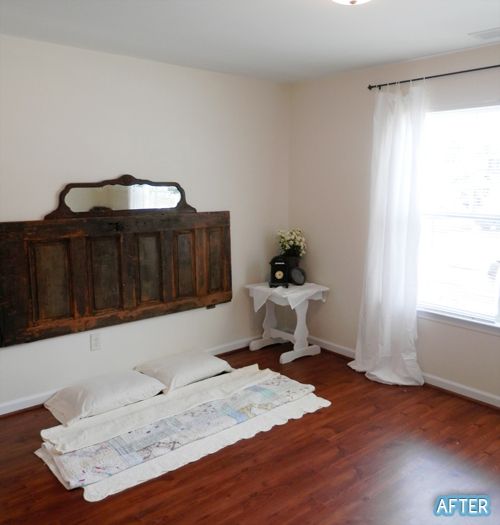 The curtains are my favorite thing ever, just white twin sheets held up with twine.

 
(Don't you love this incredible before picture?  I strive for quality.)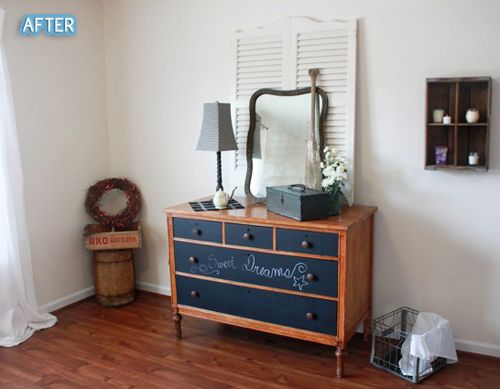 I really dig the chalkboard paint on the dresser fronts too.  I've seen
this idea on kid's dressers but I had no idea it could look so grown
up.  This was such a cool and calming space, I though Donna did a
fantastic job.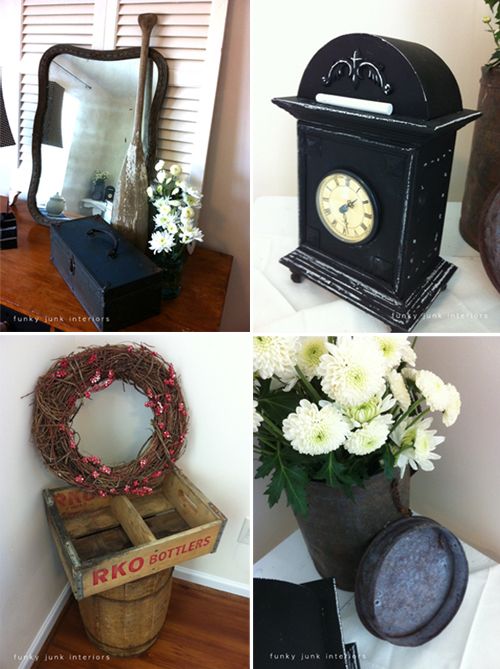 And finally, Traci from Beneath My Heart and her husband Cy!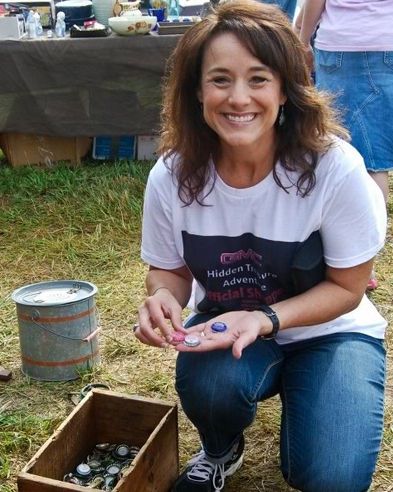 I can't say enough good things about Traci and Cy. They just were so sweet and genuine and kind. And even if they weren't, you'd never know, because their southern accents totally lull you into believing it. Hmmm, now that I think about it, you'd better watch out for these two. Ha, I kid!  Traci is every bit as wonderful in real life as she appears on her blog, and it was so nice to have Cy there lending us his handyman skills.
These two lovebirds were in charge of 3-year-old Jurnei's bedroom, and the bathrooms. Since she has four boys of her own, Traci was super pumped to be able to create a little princess wonderland.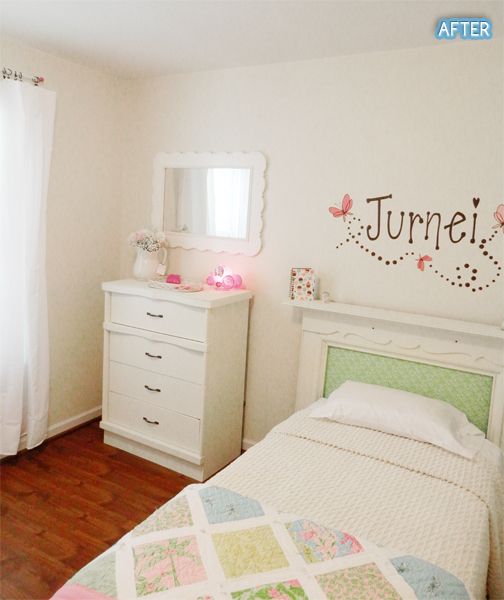 It turned out so cute. My favorite thing about this room is the fireplace mantle headboard. Cy cut a plywood piece to fit the frame and Traci padded and upholstered it with fabric from Wal-Mart. Believe it or not, that dresser used to be a pukey green, but Traci did a beautiful paint job on it a matter of hours.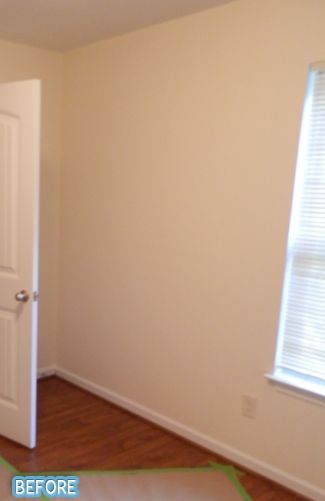 If you're looking for a way to impress a three-year-old girl, may I suggest a vinyl cupcake tree?  This was a BIG hit with Jurnei.  All graphics were generously donated by
Leen the Graphics Queen
.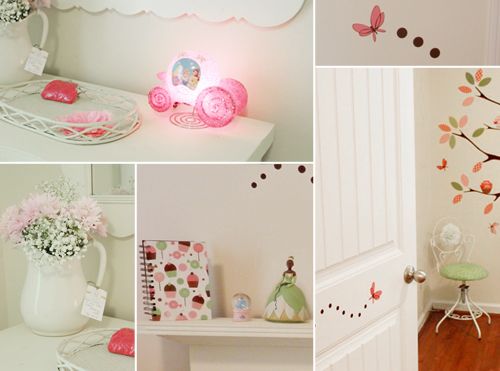 They kept the bathroom fairly neutral and simple to appeal to both kids, but still managed to throw in some fun details, like the towel hangers Cy made from spray-painted hose spigots.  Towels were brand new and donated by a yard-sale vendor who insisted that we take a whole pile of them when she heard what we were doing.  We had lots of experiences like that along the way.  People can be pretty darn cool.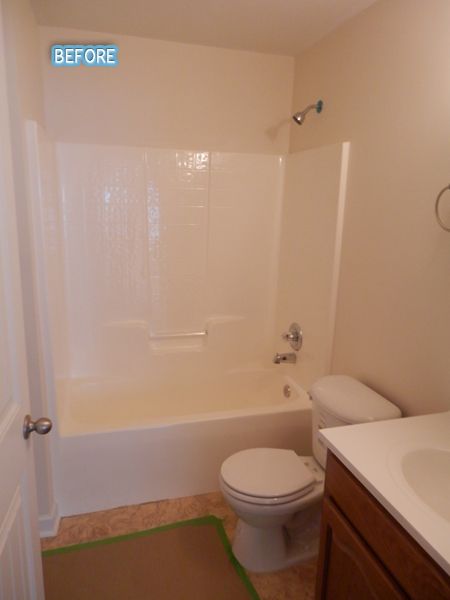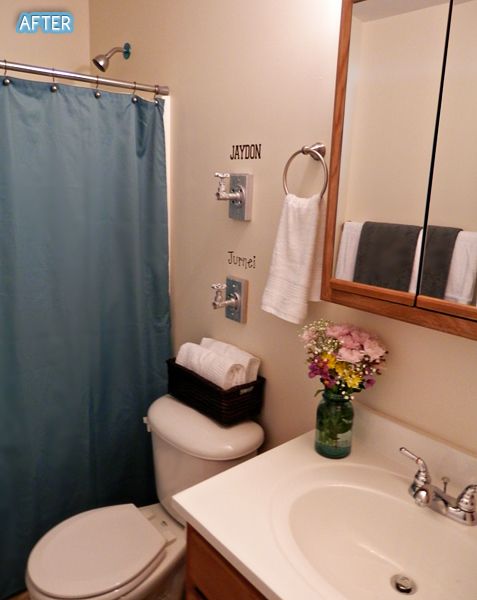 And speaking of cool people, I have to throw in one last shout-out in for the awesome folks at GM.  When you hear the name GM, you might just think of an enormous, faceless corporation, but the people we were lucky enough to work with were so passionate about what they did and what their company stood for that it was such an inspiration to see.
They were so committed to the cause and weren't at all afraid to jump right in there next to us and get their hands dirty digging around in bins at the thrift store, or helping us paint and assemble our furniture.  In fact, the master bathroom mysteriously got decorated when time was running out and no one had touched it, thanks to their helpful hands.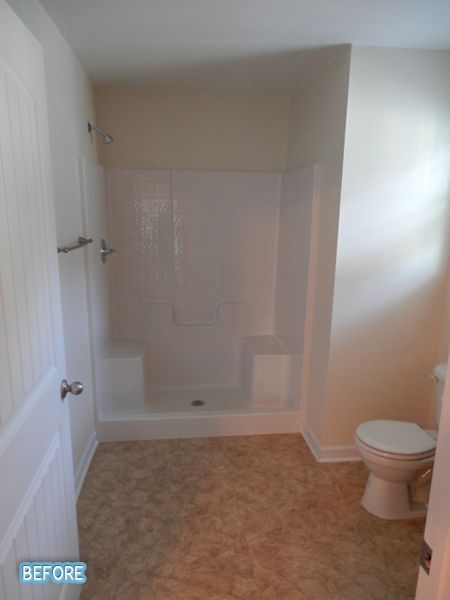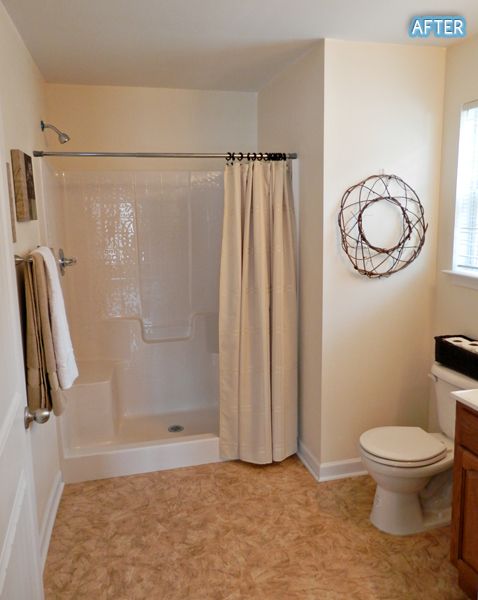 This truly was the experience of a lifetime for me, and I'm so grateful I got the chance to make a difference for this family and get to know a bunch of rad folks in the process.
Fingers crossed for next year!
See more pics on my Facebook album,
or,
if you're REALLY brave,
you can watch this video I made.  It's um … super high quality.  Brittany is the one narrating, but you might catch a glimpse or two of me and my manly voice if you pay attention. Sorry I didn't include Donna's room, turns out I had the camera sideways that entire time in there.  Ha ha!  I'm smart.