Whether you live in the 'burbs, on a farm, or in a 70 year-old townhouse, what matters most is that the outside of your home reflects the people living inside.  Not that I practice what I preach, because if you judged us by our home's exterior appearance, you would think that we are a family obsessed with baby poop. (We aren't. Just so you know).
I would love to repaint my poo-colored home, but it's 100% stucco, and that sounds like waaaaaaay too much work.  However, that didn't stop Jen here from repainting her minty green stucco, and the results are fabulous.  I was all inspired to finally paint my house too, until she revealed that it took her five whole months to complete!  That's dedication.  I would have given up two weeks in and just moved.
Kammy at
Kammy's Korner
had a nice little farmhouse, but for too long had been directing people to the side door. The front porch was an area of shame and embarrassment.  People!  Don't let this happen to you! (Not that I'm speaking from experience, I have a Front Porch Of Shame too.)  She finally decided she'd had enough and unleashed her crafty fury, painting, accessorizing and cutifying until she had a front porch to be proud of.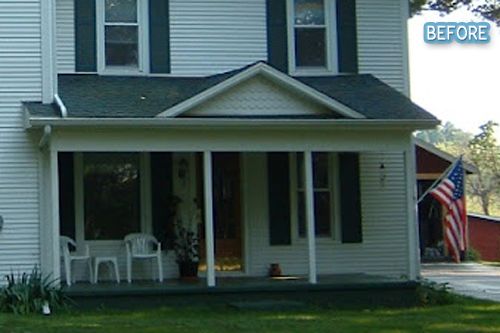 And finally, there was no question that Erin's 1942 townhouse was going to need a lot of work done when she moved in.  Here's a question though: why was there a scraggly little patch of corn growing in the front yard? Was this some sort of landscaping trend I missed?  What's next, tomatoes in planters?!  Ha ha!  Oh, wait.
So Erin shucked the corn and chucked the rest of the frightful facade in favor of a crisp gray paint job and a welcoming yellow door. Much more to see on her blog 
110 + 2
.
this post sponsored by: