I would like to give you some witty little something to start this post, but to be painfully honest, I've been sitting here for a long time, and the only thing my brain is producing are the lyrics to "Whoomp! There It Is!"
Whoomp! There it is!
Whoomp! There it is!
Whoomp! There it is!
(c'mon)
Whoomp! There it is!
I apologize.  
So let's get to it anyway. Here comes a sweet turquoise radio cabinet redo from Jess at
J. Paris Designs
. Looks totally updated, especially with the door removed. 
Whoomp!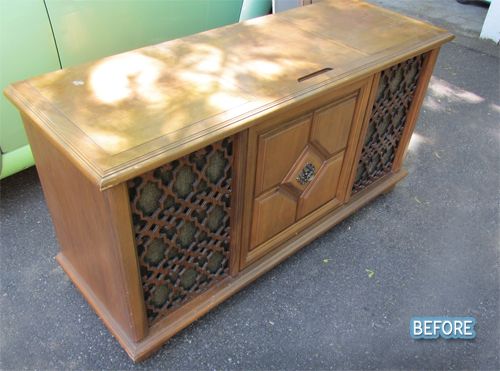 And also, there it is!  And when I say 'it', I'm talking about this table, rocking some bits and pieces of turquoise as well, and also a great neo-Navajo design. I must ask you: Here's a shovel, can you dig it fool? I certainly can.  From Better After reader Jessie.