So, it was my 31st birthday yesterday! Man, I'm really getting up there in years.  I told my son that from now on I'm going to start counting backwards. Next year I'll be 30. I know 31 is not really that old, but … its kind of starting to feel like it.  I had to go to the mall to fix my cell phone today, and it was taking the Verizon people so long that I pooped out just from standing there!  I actually had to go sit on the benches among all the little old men holding their wife's shopping bags.  I'm just old and feeble now, I guess.  
Anyway, speaking of malls and benches, this little 'Park It' bench by Meghan used to be a display stand at a store in the mall!  Ok, I'm not 100% positive if that's true or not, but I can totally see it stacked with folded jeans in The Gap, can't you?  See more from Meghan on her blog
Styled Savvy
.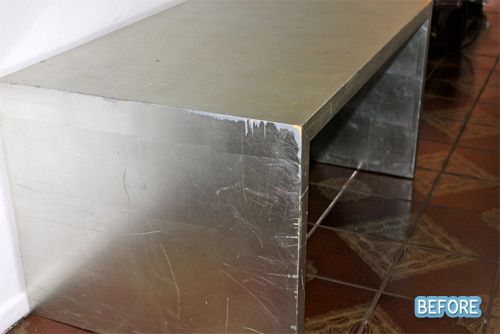 And if you wanted an even drastic-er (real word, trust me, don't look it up) chair makeover, check this sweet seat out.  You'll never guess what it used to be.  Unless the before picture tips you off.  That's right, Linn recycled this old box spring (which, surprisingly, was made with zero springs) into an adorable little table and chair set.  After she had built a custom bed, she didn't need the box spring anymore, but couldn't bear to let all that good wood go to waste.  Way to save the world Linn!  Check it out on her blog
The Home Project
.