Apparently, some people in other parts of the world actually ENJOY summer.  What an unimaginable fantasy!  If you don't have to wear oven mitts to drive, then consider yourself one of these lucky people and enjoy some of today's outdoor inspiration.
First, a ridiculously lovely screened porch from Linda at
It All Started With Paint
. Isn't this the most inviting scene?  I wish I could crawl right in.  I call the chair with the pom-pom pillow.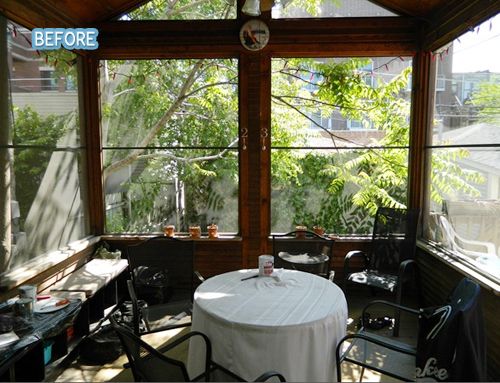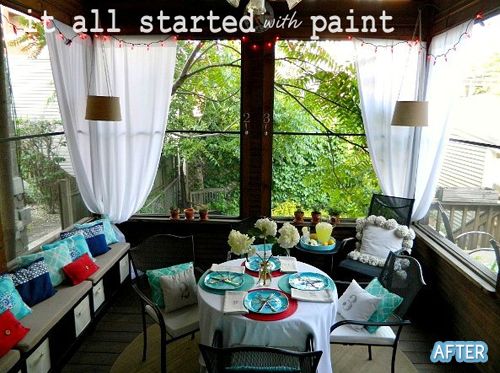 Becky from
Reinventing the Ordinary
did exactly that, by reinventing her ordinary patio with a built-in barbeque and plenty of plants to liven up the joint.  I also love the outdoor curtains, and I'm totally going to curtain my patio too, but first I should probably get curtains for the
inside
of my house. Priorities, sigh.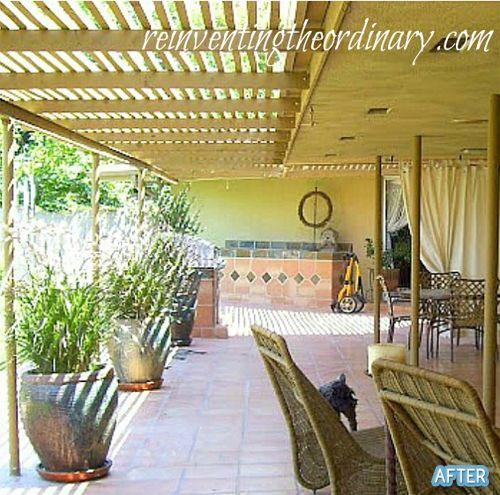 Cece from
N Your Dreams
had a little outdoor dilemma to deal with when the winter snowplows mowed over her mailbox. Yipes! So her husband installed a big swingy pipey type thing (technical term) so it can now be easily be moved out of the way come snowy time.  Problem was, it was not so cute.  But Cece knew it just needed a little sparkle and so she made the cutest little mosaic mailbox I've ever seen.  Don't you agree?
So, are you a gardener?  I try.  I try EVERY STINKING YEAR.  All my neighbors can grow stuff.  But all I can grow is despair. Even my six-year-old is better at gardening than me.  (It's almost mystical how good he is actually.  Anything he plants comes up triple in size to everyone else's.  His little bean in the paper cup at school is always the tallest.  We each planted a tomato plant this year, and everyone's died except his. It's like, five feet tall.  Sometimes I make him go talk to my plants, no lie).  Anyway, maybe if I had a cute little stick-fenced plot to garden in like Wendy from
Vintage Fan Girl
, things would be different for me.  But probably not.
And finally, Erin from
Just Grand
recently redid this old shed at her lake cottage.  And by 'redid' I mean she hauled that hot mess far away and built an outdoor shower in its place!  Ahh, it looks so serene! I want to go to there.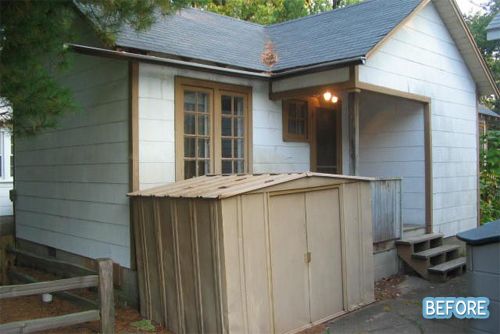 This post brought to you by: