Are you one of those people who likes to hobby?  (Are you also one of those people who can't stand it when a noun is used as a verb?  Sorry about that.)  Anyway, chances are you have a hobby or two, and chances are, whatever space you've carved out of your world to dedicate to your hobby is a bit of a mess.  Such is the nature of hobbies, unless your hobby is … I don't know … stargazing or something.
Well, I say your pastime deserves a little showtime!  Jazz that space up!  You will probably stir up all kinds of creative juices as a result. 
Like Pam from
Simple Details
whose potting bench used to be home to a rotting sponge and some old shoes. Hardly inspirational. But look how much it has literally bloomed with just a coat of paint!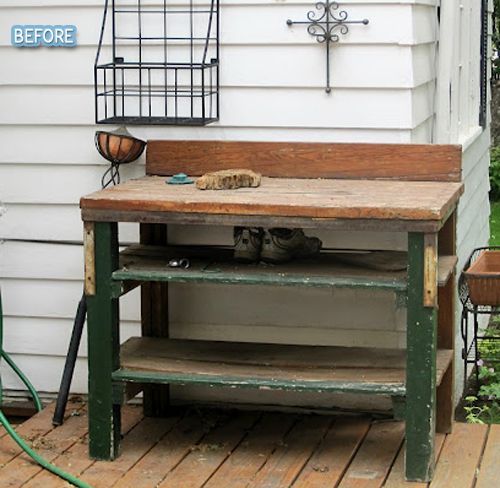 And Becca needed some crafting space, so she figured she should just go ahead and craft it herself, because that's what crafty crafters do. She found these old cabinets at a thrift-store and painted them white, then flanked her desk with them for a cozy sewing nook!  I love how the windows display her supplies, it would be great motivation to stay organized.  See more on her blog 
Practically Creative
.