(now closed)
Hey there!  I've had a great giveaway lined up for you for several weeks now, only I didn't realize I had agreed to schedule it on a Monday, instead of a usual Friday post.  I hope you don't mind!   But I don't think you will, because this prize is super cool. 
Perhaps you've heard of BeddingStyle.com?  They are celebrating seven years in the bedding business and are spreading the love by giving away a FREE designer bedding set of your choice, up to $250 in value!
They have a large variety of brand-name bedding, such as Tommy Hilfiger, Vera Wang, Steve Madden, and Nicole Miller to name-drop a few.
Not only that, the prices are great and the quality is too.  And I'm not just saying that!  I happen to know for a fact, because they were kind enough to send me some bedding as well. This came at the perfect time, because we recently upgraded to a larger mattress.  I couldn't handle sleeping in a queen with my husband, AKA Mr. Jabby McKnobby Elbows for one more minute.
Anyway, I chose the l'erba Sanctuary Quilt, seen here: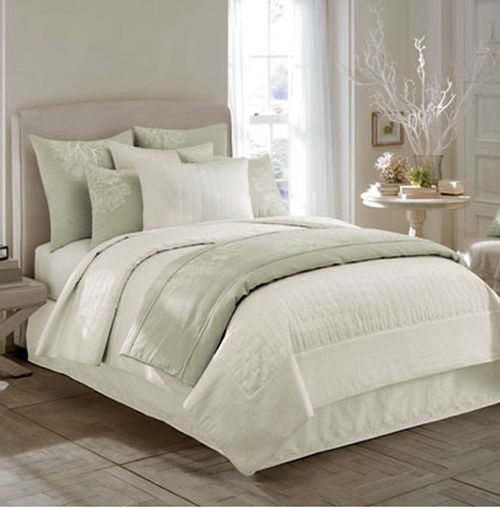 (no, this is not actually my bedroom, wistful sigh).
It is so silky soft and fantastic. It's a bit more lightweight than it appears in the picture, which is fine with me, because have I told you I live in Phoenix, where the average temperature is 9,000 degrees?  I have?  Ok, carry on then.
Bedding Style is really on the ball with customer service too.  When my order arrived, I was missing a sham.  I sent one quick email to let them know, and it arrived on my doorstep a couple of days later, no hassle at all.
(THIS is my actual bedroom, for your viewing pleasure.  Sorry that I forgot to turn on the lights).
Up-close detail on the quilt.  Es muy lovely, no?

To enter: Visit Bedding Style and let me know what you'd choose in a comment.


For an extra chance to win, either:
Follow Bedding Style on Twitter, link to this giveaway, and mention @BeddingStyle in your tweet,
OR
'Like' Bedding Style on Facebook, link to this giveaway, and mention http://facebook.com/beddingstyle in your post.
 (don't forget to come back and let me know in a separate comment!)

This giveaway ends one week from today!  (That's Monday, June 18th, should you be wondering). Please, PRETTY PLEASE leave a way for me to contact you!  Winner will be chosen at random.
Good luck!