Holly needed to feed her Pinterest addiction, so when she found this abandoned side table begging for a makeover, she snatched it up to make a dog bed.  Fear not dog lovers! She did not actually put any dogs inside those doors. She removed them, flipped the whole thing over and added a pillow!
That reminds me of one time I was at Goodwill buying a little wire birdcage that was OBVIOUSLY decorative, and I was accosted by an old lady who demanded to know if I was going to keep a bird in there. "Nope!" I replied, "I'm going to spray paint it!" and then we had a fun I'm-pretty-sure-this-person-is-crazy stare-off.  Some people just don't get it.  See more on Holly's blog
Aggravation Station
.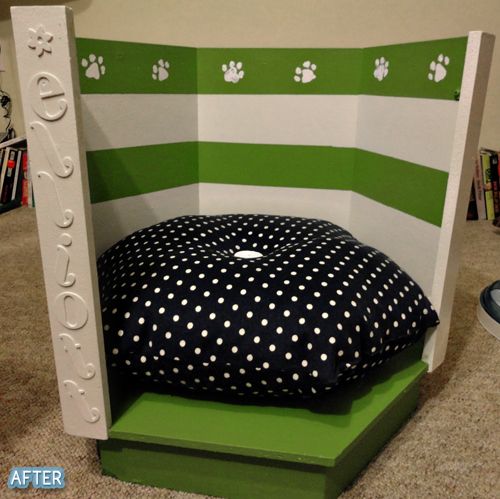 And Better After reader Sarah found an ornate table and planned to make it into a dog bed as well, but was stumped on exactly what to do.  Months passed and then it hit her: WuShock!
Oh, you don't know what that is?  ALL the cool kids know what that is.  I'm kidding. I had no idea what that was, until she explained that the mascot of her alma mater, Wichita State University, is the WuShock.  Apparently, it used to be "Wheatshockers," but got shortened.  I'm still confused.  Sarah clears it up further.  "Basically, we're Kansas and like wheat."  Got it.
So she played up the WuShock theme and made the "Woof Shock" fancy four-poster bed, in the school colors black and yellow, naturally.  That is one spoiled pup!  Thanks for sharing Sarah!
sponsored by: