You know how when you check into a hotel room, there's always a strip of paper laying across the toilet seat declaring it "sanitized for your protection!"  Do you know about that?  Maybe you don't.  Maybe you only stay in hotels where a sanitized toilet is a given, and not an amenity.  Maybe I should look into those.  Anyway, when my husband and I were trying to buy a house a few years ago, almost every home on the market was a grody gross short-sale.  But we walked through one that was just pristine and beautiful and it had those strips on the toilets!  Ha!  It totally worked; we put an offer in. (Got outbid, darn it).
ANYWAY, long story short, that's what those orange stickers on the appliances made me think of.  Kalie didn't care if they were sanitized for her protection or not.  She just wanted them gone, and everything else in this basic builder-grade kitchen too. It's simply gorgeous now.  Just the crown moulding alone ads a ton of interest and makes the room feel larger.  Lots more to see on her blog
Little House Big Plans
.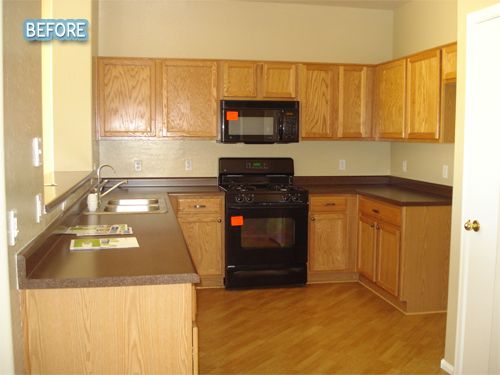 sponsored by: