Shelly made over this corner hutch as a charging station for her iPad and phone and things of that nature.  This is about an infinity percent better than my current charging station, which is the floor by my bed.  She replaced the shelves with a glass insert to let the recessed light shine through and dressed it up with wallpaper backing and new hardware.  She was reluctant to paint over the "Brazilian mahogany," as the seller had informed her, but not so much when she got it home and realized it was MDF with mahogany veneer!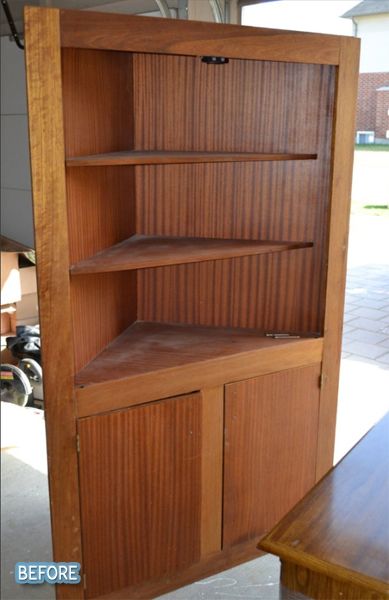 And Katie resuscitated this $20 Goodwill bookshelf with a mixture of whatever paint she had lying around and a walnut stain. She says,  "I used a blue that started out as Harbor Blue, but then I added a bunch
of gray and white paint until I liked what I had.  [When staining] it's almost
irrelevant what color you have underneath … When I know that I'll be staining something, I really just
use what I have and go with the flow."  A very zen-like approach! It definitely worked in her favor and now she has a beautiful backdrop for her white dishes.  Ohm.
sponsored by: