Howdy there, ya'll!  Knock the dust off yer boots and hunker down for a spell, because I've just lassoed up a herd of chair makeovers to whet your DIYin' whistle.  Yeehaw!
Ok, I'm not sure what all that cowboy talk was about, but here we go!
Megan had searched far and wide for a chair for her nursery that fit certain criteria: it needed to be a rocker or glider, and NOT a typical big-box store item, preferably either second-hand or organic to cut down on introducing toxins into the room.  And the solution was right under her nose!  At least, if she was sitting on the roof that is, because she had forgotten all about this rocker in her attic!  Perfect. See more on her blog
Green Motherhood
.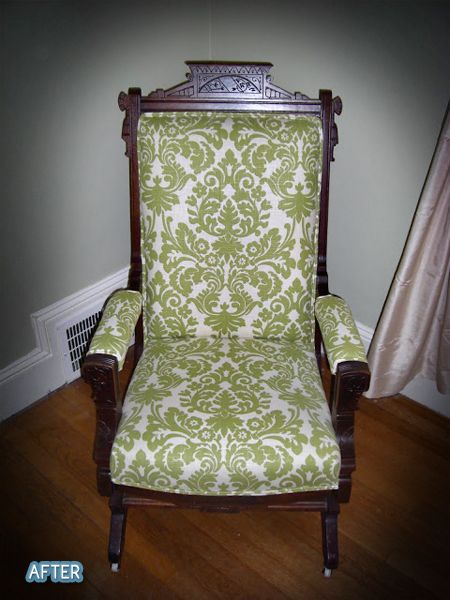 Oh, my goodness, I don't think I've ever seen sadder chairs. So beige. So floppy. The left one is trying to keep a brave face, the right one has given up on life completely. Jenn from
Heim-Elich
rescued them with ebay fabric and new legs from the 'as-is' section of Ikea. (Which is my very favorite spot in Ikea, after the meatball aisle).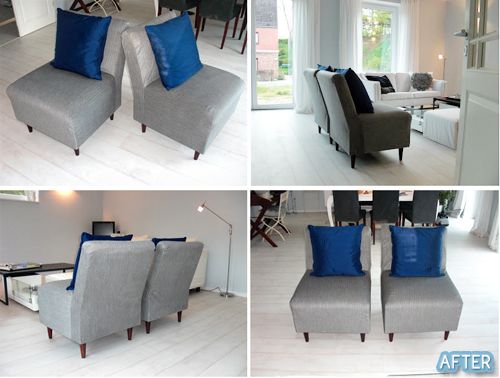 Carlene was digging on the surprisingly decent aqua fabric this armchair was rocking, and brought it home to live at her house.  (Not without dickering $15 off the price tag first, aw yeah.)  She added a few colorful throw pillows and painted the wood white for a quick update, and now it fits right in!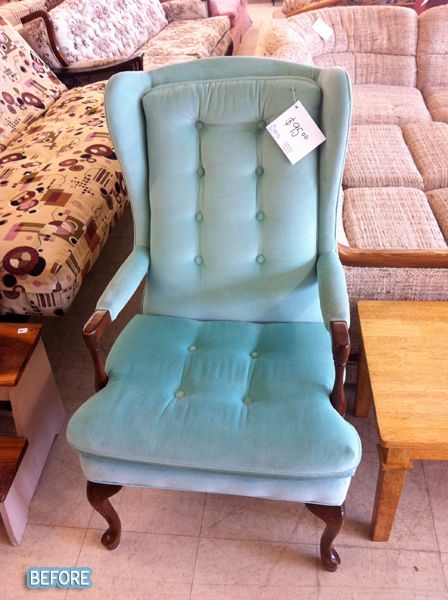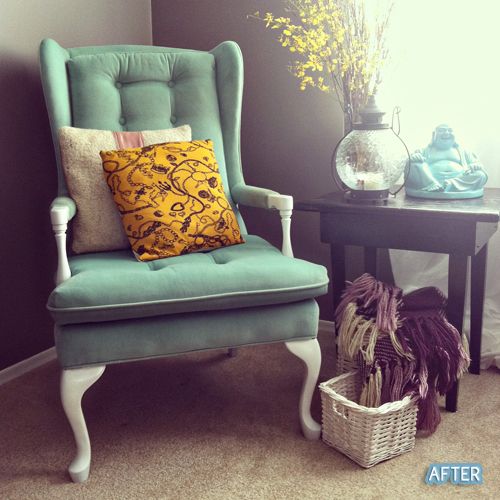 Cynthia's ottoman looks a billion times better with the burlap upholstery and nailhead trim, although I can't help but wonder what future anthropologists are going to think when they discover all these numbers we've arbitrarily painted on our furniture.  "I say! This ottoman is in remarkable condition for being over 200 years old!"  See it on her blog
Simply Chic  Treasures
.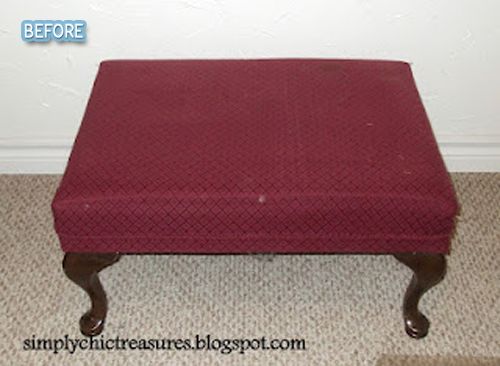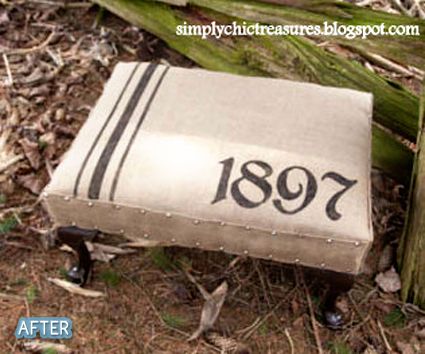 You otto know that there's another ottoman makeover coming your way.  Hannah found this one for $5 on Craigslist and was able to muscle past its suspiciously-stained and cigarette-burned fabric. She must have an iron stomach, because I would have been crouched in a corner quietly dry heaving.  She repaired the damage, right down to fixing sagging springs with a piece of MDF and a few things she had on hand.  A DIY MacGyver she is!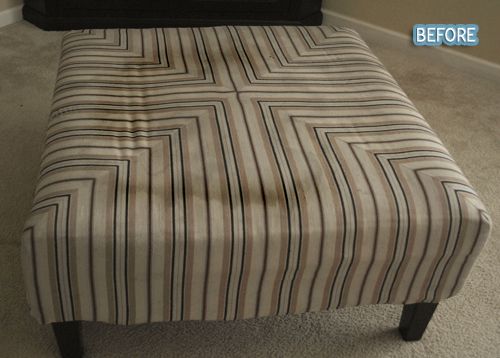 Nicole's bentwood rocker was vintage, and not in a hip way.  More like, a saggy and sad because it's super old way. She fixed it up with the equivalent of Botox for furniture: white paint! The rad bird fabric doesn't hurt either.  It looks brand new, but like, totally old school too.
So
hip! Check out
Ms. Green Designs
for more.
This chair is so boring, it's hurting my feelings.  But Bridgette gave it a chic changeroo with new paint and fabric, and all told, the whole thing cost around $8.  That's ridiculously ridiculous!  You practically don't need the job that necessitates the office that necessitates the office chair for that price!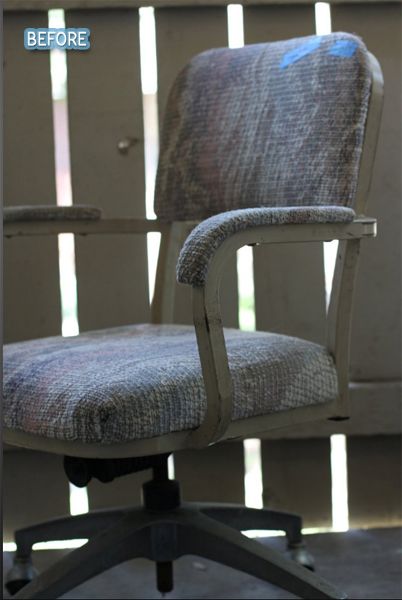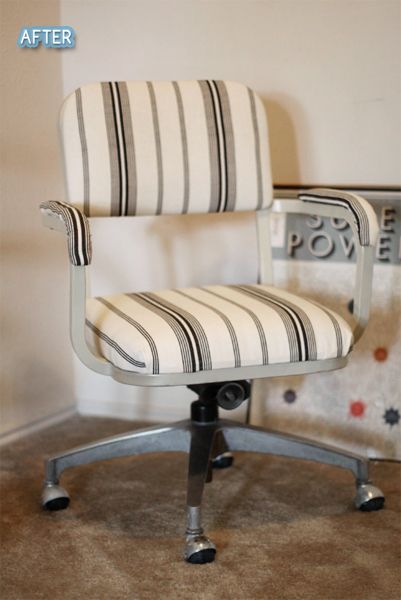 Some rehab was needed here obviously, and Vikki from
The Quirky Quail
tackled the task with a distressed paint job on the frame and some amazing 50% off fabric from JoAnn's. 
Ok, I can't handle it. Is there some kind of like, secret room at JoAnn's?  Where they keep all the cool fabric?  Because EVERY time I go to JoAnn's, I end up wandering around for an hour without buying a thing.  I've never seen ANY fabric there that is remotely this cute, ever.  Is there some kind of skull and bones JoAnn's club? I'll totally join. Will you guys just please tell me where they keep the cool fabric already?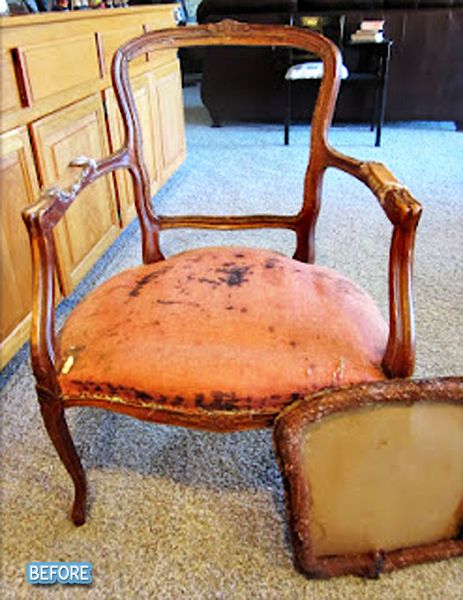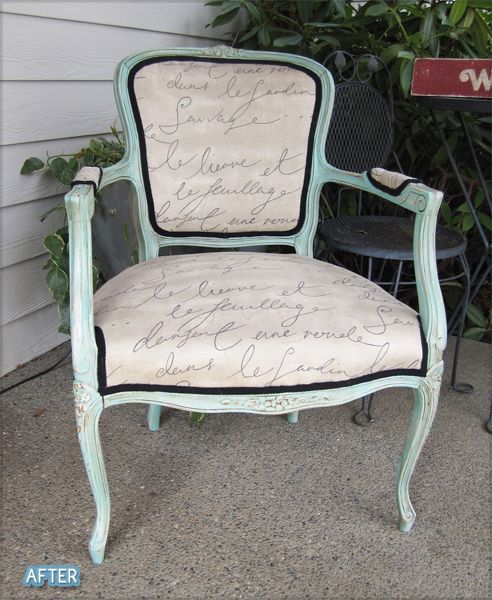 And speaking of cool fabric, cast your eyes on this beauty from Rachelle.  She was happy with the size and shape and overall comfiness of this chair, but … that funky fabric had to go.  First she cut off the skirt to show a little leg, (which is a great way to update anything.  Well, not
anything
…) then she went ahead and sewed a slipcover, just like that!  I know.  I didn't think it was a slipcover either.  But I'm pretty sure we can trust her. See more on her blog
Adventures in Creating
.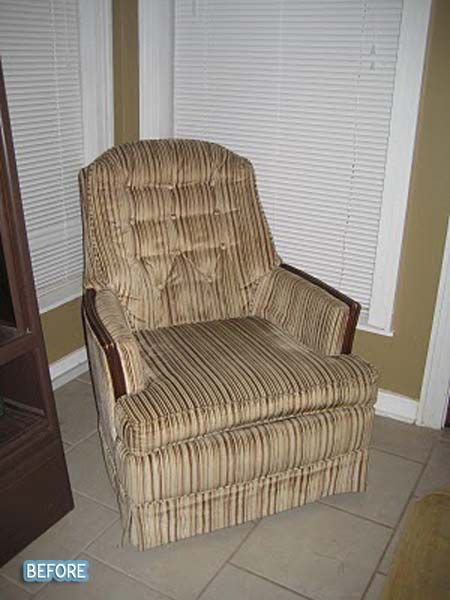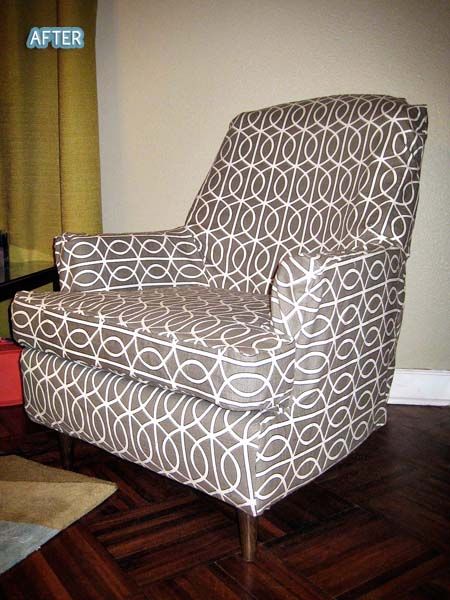 sponsored by: