Here's one for all you dark chocolate lovers out there.  Sorry, there isn't actually any chocolate in this post, but there are some chocolate colored cabinets!  Because who doesn't like dark chocolate?  I know plenty of people don't, but guess what?  Those people are crazy.  Dark chocolate is delicious.  You know what else is good?  Dark chocolate-covered pomegranate seeds from Trader Joe's.  My friend (Hi Steph!) brought me some over when I was so, so sick with strep, because if you're about to die, you might as well die happy, and I have since become addicted to those things, so you should really try them. 
Wow, I'm rambling.  It must be Friday.  Anyway, please enjoy this beautiful kitchen makeover from Andrea at
Decorating Cents
that is totally making me crave my pomegranate seeds. I have to go to my pantry now.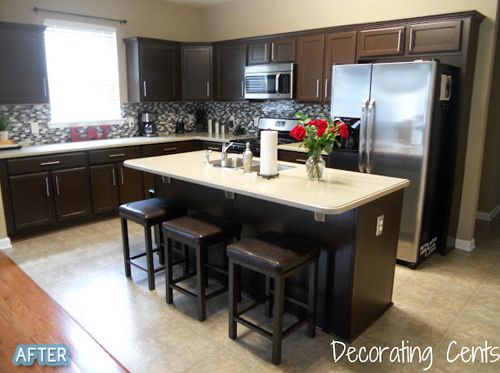 sponsored by: