Stencils, much like Jazzercise, have made quite a comeback.  Because back in my day, stencils were really uncool. (And Jazzercise wasn't any better.  Remember when people used to wear leotards over tights to work out?!  Ha ha ha!  Actually, there is this one lady at my gym that still does that.  No joke. I can't NOT stare at her when she's there. You go girl!  You rock that workout onesie!) 
Anyway, times have thankfully changed for the better, and stencils are no longer the typical teapots, grapes, and ivy vines I recall from my youth.  I apologize if you still have teapot, grapes, and ivy vine stencils in your house.  Perhaps it's time for an update?  Here are a couple of idears!
This lovely makeover comes from Rita at
Design Megillah
, who found this desk for $40 on Craigslist. A perfect candidate for some sweet stenciling action, and I love the surprise of blue inside too.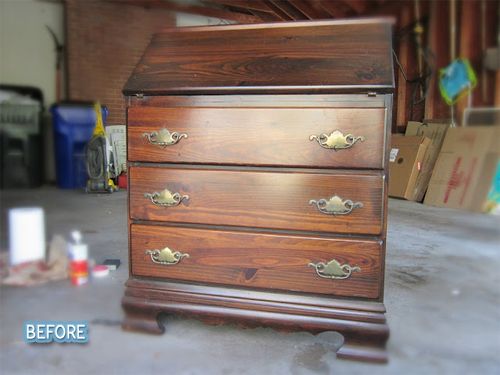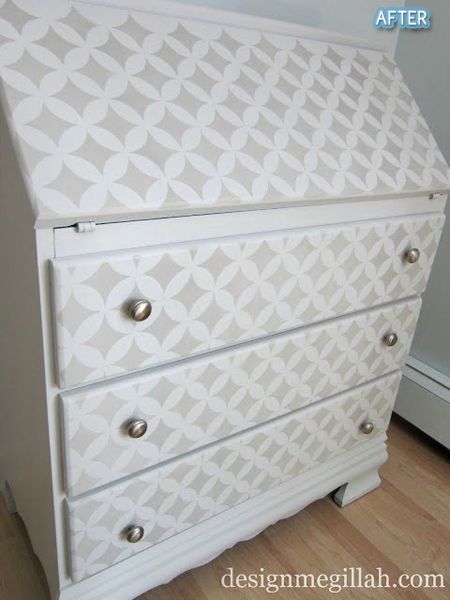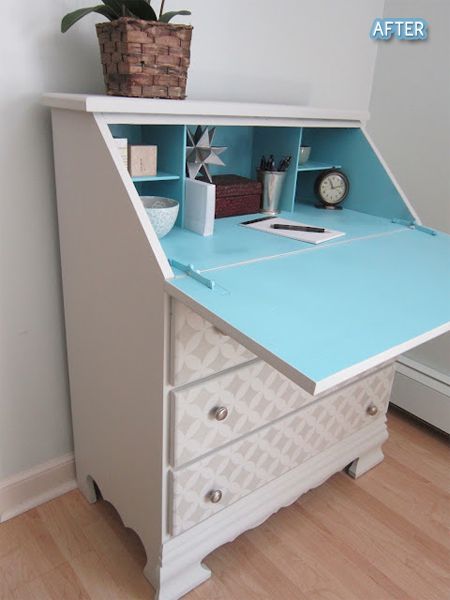 Stenciling is hard work, which is why Linda probably asked herself "Why bother squeezing into all the nooks and crannies of my armoire just to stencil the back panel, when I'll probably get tired of it eventually?"  So, genius alert, she painted in the comfort of horizontalness on a piece of foam core instead!  You would never know.  See more on her blog
Burlap and Blue
.