Hi friends!  Thanks so much for all the well-wishes and encouraging emails and comments after my little whine-fest this weekend.  You know just what a girl needs to hear. It really meant a lot to me and totally boosted my spirits.  You rock. I would love to say that I'm all better, but ha! No, sad to say I've been tackled and beaten with what I can only describe as the El Niño of flu/head colds, complete with aches, seizure-like shakes, buckets of snot, and feverish night terrors involving Gandolf stalking me at Disneyland. 
It's been fun.  So anyway, I'm going to pretend I'm relaxing in the spring sunshine in this lovely Adirondack chair makeover from Laura and not shivering on the bathroom floor in my bathrobe. Power of positive thinking, right?! See more from Laura on her blog
Top This Top That
.  (which totally reminds me of
this awesomeness
.)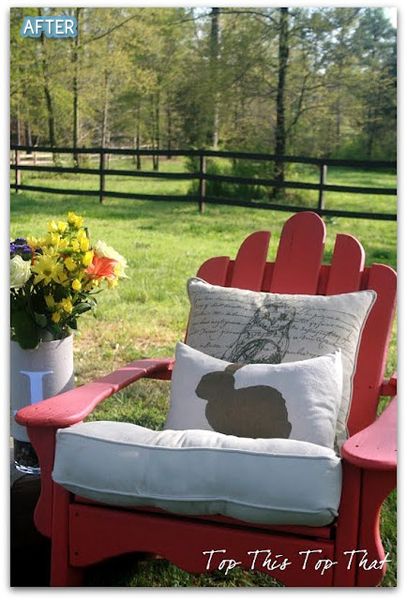 sponsored by:


Cliq Studios produces quality kitchen cabinets at discount prices.