If you are new to my blog, you might not be aware of the 'categories' section over there on the right hand side.  Convenient if you are looking specifically for bathroom inspiration or chair makeovers or what have you.  But there is a tiny little category called 'innovative ideas' that is my secret favorite.  It's makeovers that just have that little extra 'huh!' factor, like an unconventional technique or solution that seems so genius you wonder why you didn't think of it yourself. 

I think these next couple of makeovers fit the 'innovative idea' bill, so here we go!  First, Carly had a bit of a stuffed animal infestation.  She says, One of the fluffy burdens of being a huge Disney fan married to a huge
Disney fan is that we've both spent our lives collecting Disney stuffed
animals. For some reason, Kyle and I grew up under the impression that
the world would stop producing stuffed animals when we had kids, so we
needed to save each beloved friend for our progeny. In the event of a
toy apocalypse, our kids would be all set.


Ha ha! I get the feeling she's not exaggerating.  So, she came up with a solution to store all these beloved toys by re-purposing a Ikea PAX wardrobe unit into a stuffed animal storage station.  Bungee cords (smart!) keep the animals snugly stuffed into place.  See the whole how-to on her blog The Disney Baby Blog.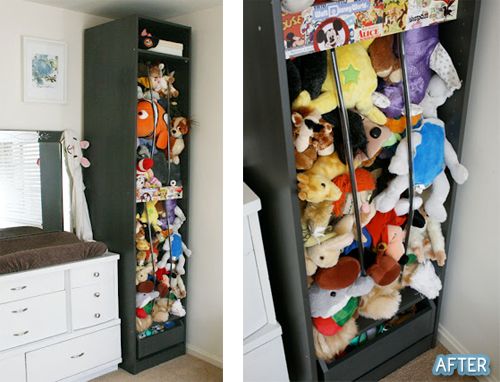 And here's another storage solution from Karen who didn't want to spend tons of money on new shelving for her laundry room. (And seriously, who wants to spend extra income on laundry room shelves?  I can think of about 10,000 other things I'd rather spend my money on first).  So she just hid her plain wire shelf instead, and it looks SO much better!  I love how she hung the curtains all the way from the ceiling, it really gives the illusion of more space and storage, even if that's not the case!  Who has to know?