Don't despair if you haven't mustered up enough bravery to try reupholstering something yet.  Look to Amy for inspiration!  She took this freaky old chair and successfully reupholstered it with houndstooth fabric ON HER FIRST TRY!   How ironic is it that someone once gave me two chairs with this exact same fabric and I donated them to Goodwill because I had never upholstered something before and was too scared to try?  Wow, I am being totally uninspirational today.  Ignore me!  Go reupholster whatever you want to your hearts content!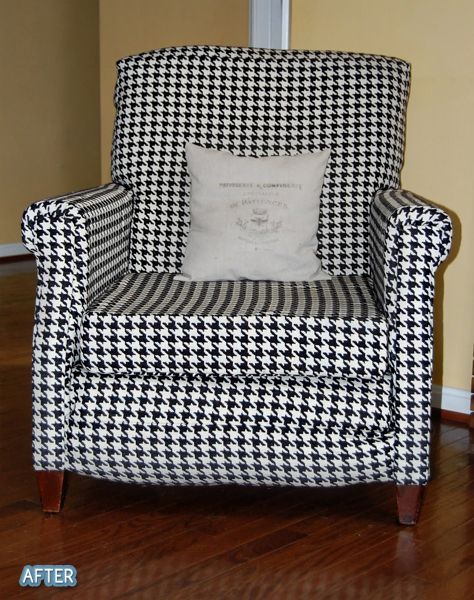 But if reupholstery isn't your bag, and it's the sweet harmonies of black and white that captured your attention today, then check out this redo from
Meg and Mum's
. Perfect for piano teachers, music lovers, and anyone with a soul. Seriously, how could you not love it.  Plus: so shiny!

What's that you say?  You want MORE black and white deliciousness?  Then how about a black and white kitchen remodel from Heather at Decor4Poor?  The only thing 'poor' about it is that it's not in MY house!  Doesn't it look like it grew about 50 square feet?  Knuckle-bumps to you Heather!
sponsored by:
Cliq Studios produces quality kitchen cabinets at discount prices.