I hope you have a hankering for a whole lot of chair makeovers.  Because you are about to get some!
Ok, so this first one isn't really a chair.  It's a demonic bench that is possibly concealing some kind of lumpy illegal contraband.  The whole shamdangle is giving me nightmares, and I'm not even asleep yet.  Holly found enough inner fortitude to start over and make it shine with glossy black paint and fun fabric.  BETTER.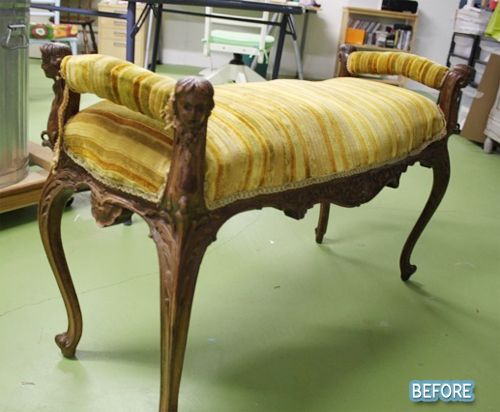 Virginia from
Live Love DIY
has a special talent. It's something that
very few
people in the world possess: The ability to make brown paint look like wood and not poo. I honestly thought she had stripped off the plum paint from the before chair and restained the wood, but nope!  Just brown paint!  Trust me on this, that's rare.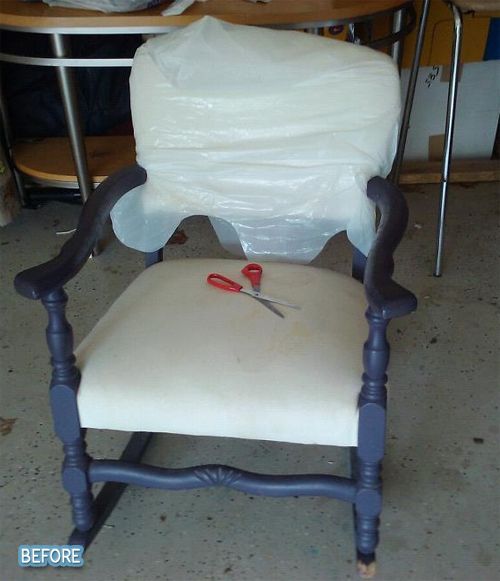 No need for mod to be sad!  Beth beefed up her chair's cushion and recovered it in a fun fabric that no longer looks like the interior of a driver's ed car.  She also refinished the wood, but kept it as close to it's original flavor as possible.  See the whole process on her blog
After the Dust Clears
.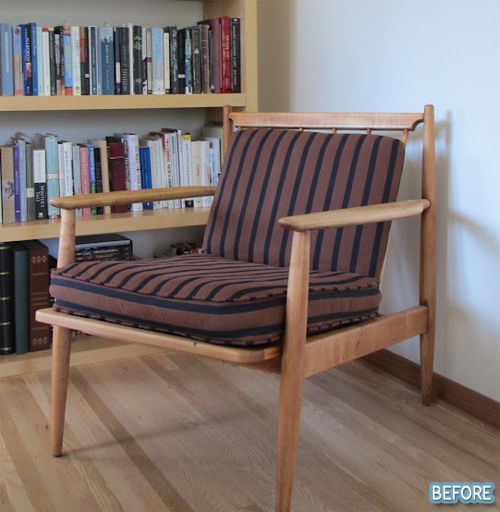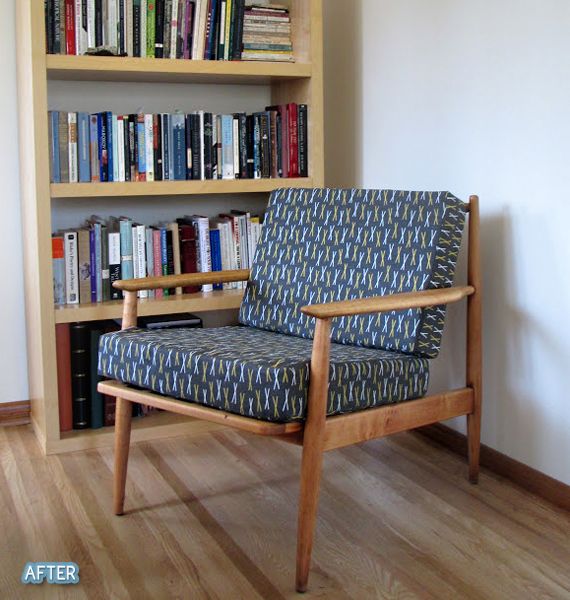 Jesse from Nine Red decided this simple chair should get in on the ombre trend. I need to get in on the ombre trend too. It makes me feel pathetic when furniture is hipper than I am.  He gives a full tutorial over on
The Divine Minimalist
.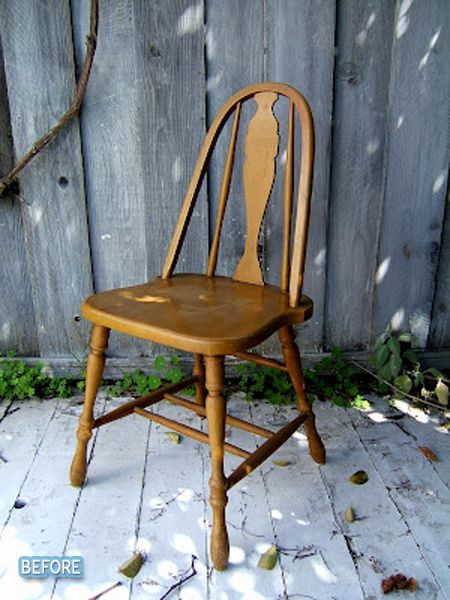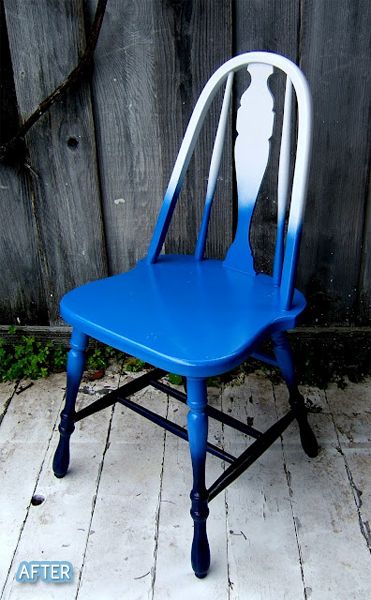 Maria Difonso
has found a new passion: saving the world from ugly upholstery, one tattered sofa at a time!  Move over heart surgeons, there's another noble profession in town.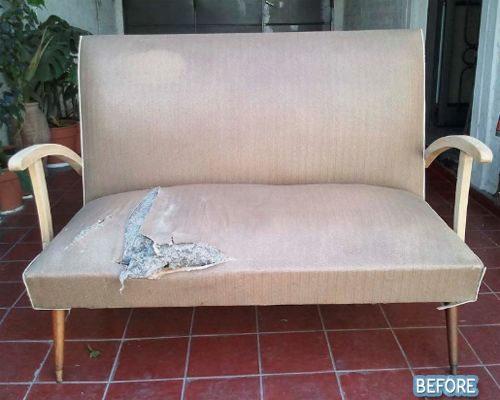 Here's another skeevy chair given another shot at life, and it owes everything to Maria.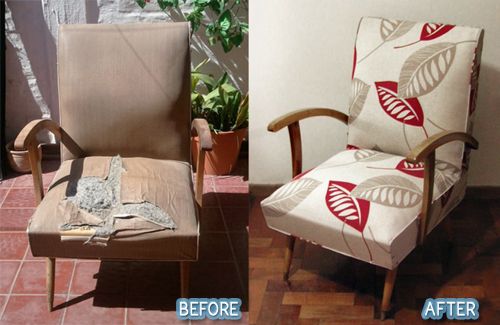 And here's another Maria!  There must be something about that name.  I think it translates into '
she who is not afraid of hopeless upholstery
.'  Even though these orange chairs were pretty fun, Maria couldn't overlook those mega rips. Who could? No throw pillow in existence could conceal them. But after stripping the chairs down to the nubs, she brought them back to life with a neutral fabric and some sweet detailing.  See it all on her blog
Our Lake Life.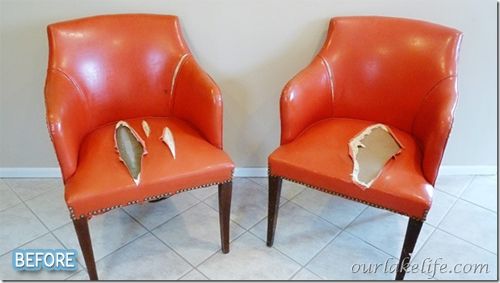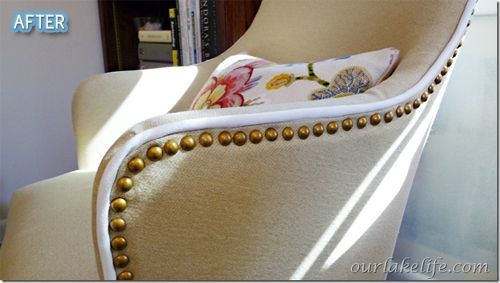 Valery gave this chair some added 'oomph' which is such a weird word.  Does anyone ever use that term in everyday life?  Doubtful.  Nonetheless, she oomphasized it and accessorized it with a snazzy little chevron pillow, and the whole thing is adorbs.  See it on her blog
Merry Go Round Boutique
.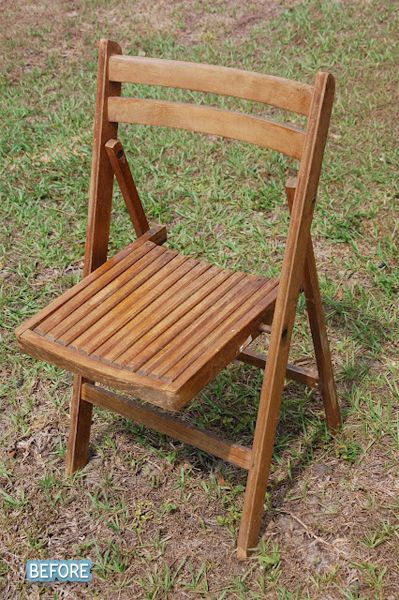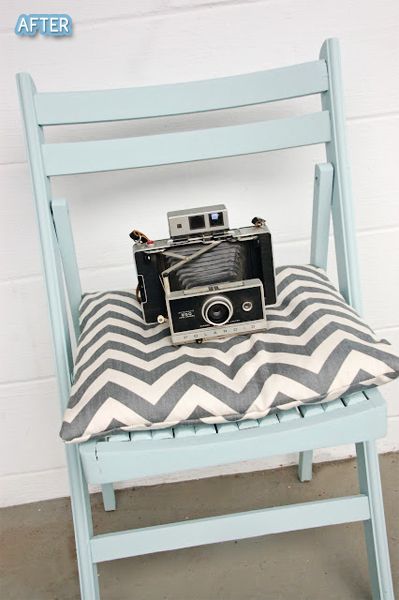 And now we've come full circle, as we end today with another bench redo, this one thankfully free of creepy cherub heads, although frighteningly enough, it appears to have been upholstered with a  prom dress from the '90s.  Zorrie from
Let's Talk Chic
must know what she's talking about, because now it's is the epitome of chic.  To be fair, hunter green sateen was probably once the epitome of chic too.  Those were different times.