HOLLLLLYYYYY ILLLLLLLLNNNNESSSSSS YA'LL.  Ugh.  Did you miss me?  I've been face down in bed for a few days.  It turns out I have strep. And it turns out that strep is like death climbing into your body and turning it inside out.  I always thought it was like, a really bad sore throat.  Ahaha.  No.  I got a big shot of antibiotics in my behind though, and I'm hoping I'll feel more like a human soon.  And holy crap, let me tell you, that shot is no joke.  I can still feel it 24 hours later.  Woof.  
Speaking of woof-y things (leave me alone, my brain is overheated) check out this fantastically bad  bathroom. I would describe all of its design sins for you in great detail if I wasn't already sick.  But Kristen reworked every single element in here to create a master bath that whispers "
serene relaxation
," instead of shouting "
Somebody actually thought this space-age-porn-star-equestrian-themed-thing was a good idea once
!" *sigh* Those were different times. Hear the whole story of this fabulous transformation from Kristen on her blog
My Covered Bridge
.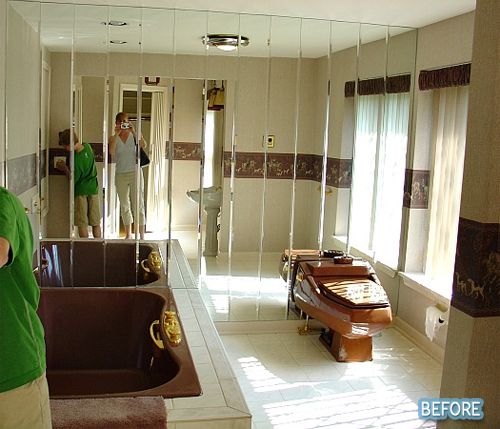 Kristen also reports that the huge window next to the toilet was a street-facing window, not to mention the toilet was window-height … AWKward.  By removing the jacuzzi tub they were able to lower the floor, so that little privacy problem is better now!