Mikell found this blue entertainment center at a thrift store for $25.  The only thing entertaining about it was playing a game of don't-get-hit-in-the-head-with-that-broken-dangly-door while getting it home. I probably would have entertained notions of throwing it in a wood chipper, myself.  But Mikell soldiered on and worked that big blue thing over into a sweet little coat-rack for her storage deprived apartment!  Fantastic!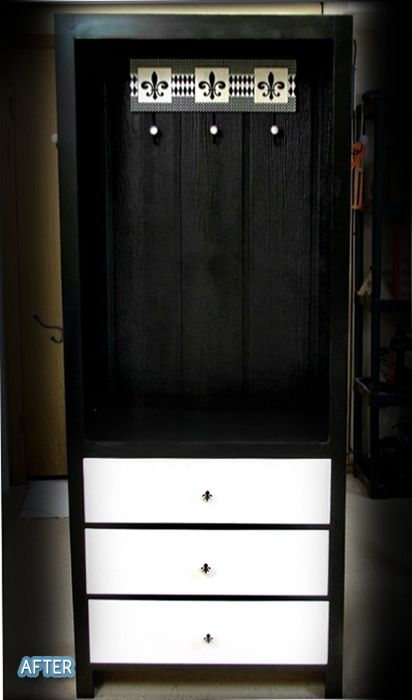 Speaking of storage, that's exactly what Melysa was in search of when she brought home this unfinished hutch.  After debating long and hard on how to finish it, she finally settled on a black on black look, and confidently bought one can of black spray paint.  A few frustrated trips to the store and
six and a half
cans of spray paint later, it was done!  See the whole process on her blog
Moments with the Montano's
.
And here Bridget from
Life as Bridget Knows It
repurposed this hutch into an entertainment center!  It's like we've come full circle!  (since, you know, the
first
project in this post was an entertainment center?  Do you even remember that long ago?  I know you internet fans are famous for having short attention sp— mmm, I could go for some toast right now. What were we talking about again?)  Right.  Bridget's hutch, made over into an entertainment stand!  I love how it fits perfectly under her window, what a great find!  And it totally looks like she paid top dollar.  (Shh, she only paid $60!)