Teal … aqua … peacock blue … turquoise; whatever you want to call it, its still going strong.  Maybe someday it will be the avocado green of the color wheel, but let's hope that day is far away.  (I quietly predict that day will never come, judging by all the roadside turquoise jewelry my grandma still wears that is decades old and still looks totally hip).  Turquoise Forever, who's with me?!  
First, a little hutch redo from Kara at Decor Voyeur that looks so much cuter now that it has been de-fronded, or whatever the heck used to be painted on there, in favor of distressed aqua and red knobs. Aqua and red!  Surely this is a timeless color combo?  How can it get old?  I submit that it cannot.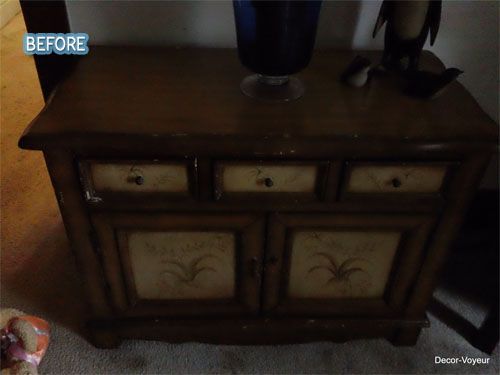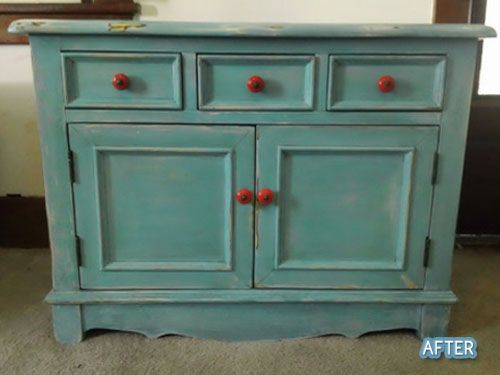 Did you know that turquoise looks pretty rad next to walnut stain?  I did not, but now I do thanks to Jennifer from The Magic Brush! Be sure to check out her blog for the story of how she had to out
wit a potentially dangerous Eskimo stalker to buy this hutch.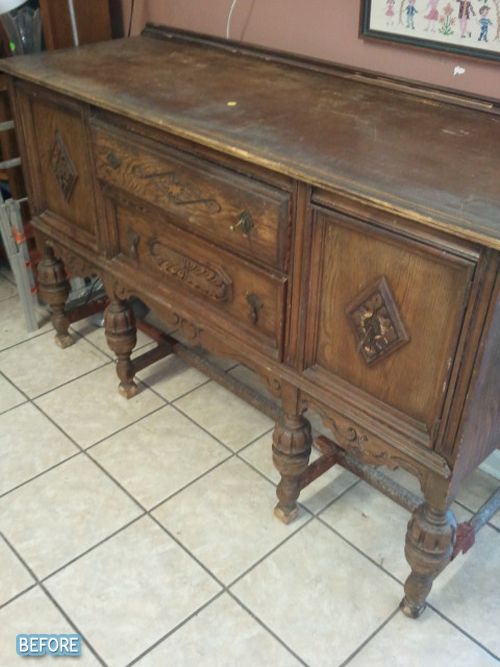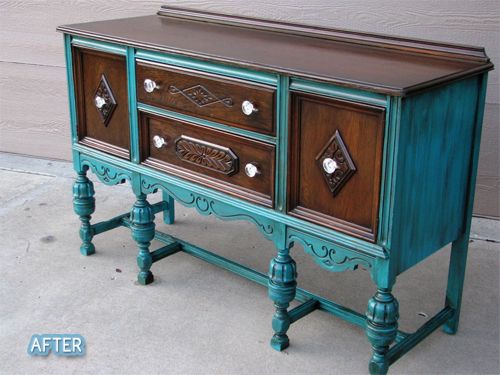 Ahh, yes, here's another classic look, bronze and turquoise.
Or, as Dionne calls it, teal-icous! Or, it we want to get all nitpicky about it, Venezuelan Blue, which is what Benjamin Moore calls it. I think we can all agree it looks awesome. See it on her blog The Turquoise Iris.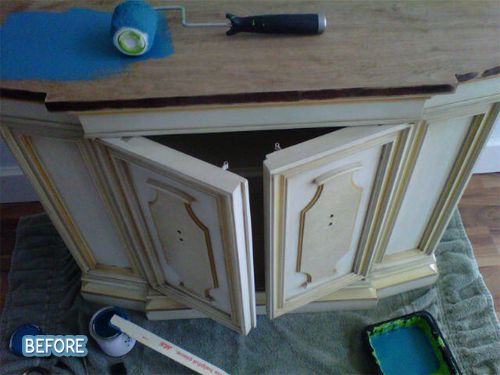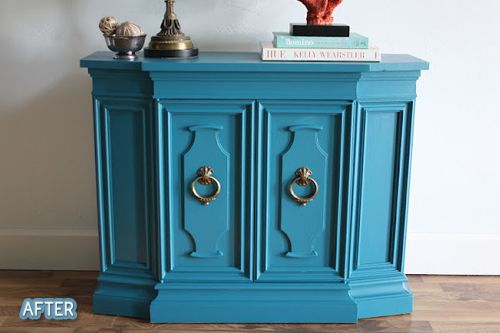 This hutch was perfect for a little girl's room, if that little girl enjoyed smoking pipes in the drawing room after dinner.  Fortunately Brooke's daughter did not, so Brooke youth-ified it with happy aqua paint and a bold black outline for her bedroom instead.  Did I mention she found it for free too?  No fair. See more on her blog Covered in Grace.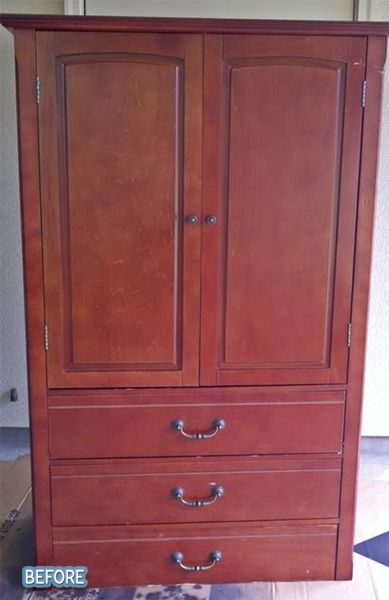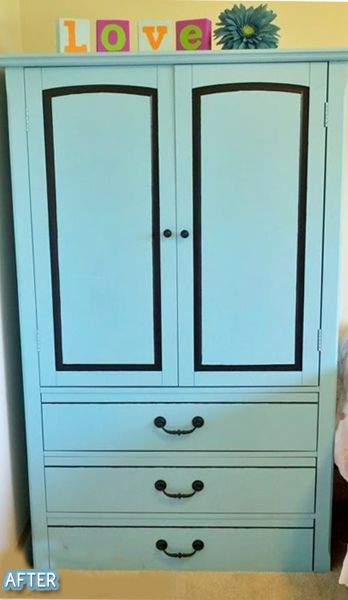 Would you enjoy some Aqua Chiffon with your laundry? (Isn't that the perfect paint color name for a laundry room?) If you're going to do chores, do them in style right?  That's why I always insist on cleaning the house in my feather boa and tiara.  Not really, my feather boa makes such a mess.  See all the many details Michelle put into this room on her blog Sweet Something Designs.  (My favorite is the floor!)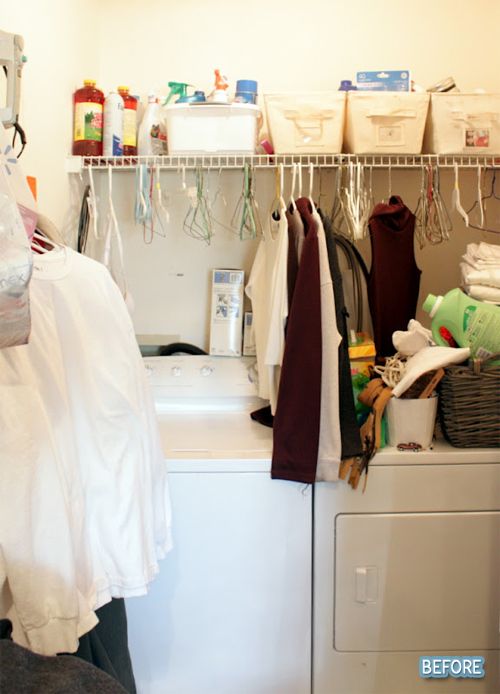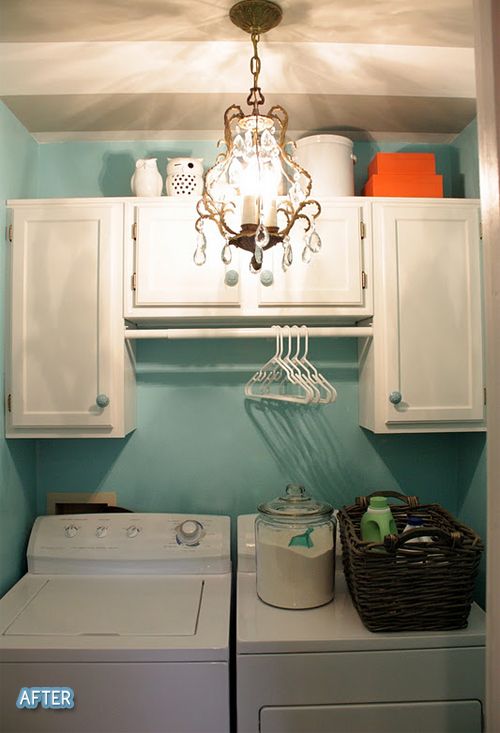 And finally,  Better After reader Kristy found this table set for $50 on craigslist, but wasn't digging its deep dark stain. So she sanded the life out of it and painted and (lightly) re-stained for a completely new look.  Who knew all that fabulous wood grain was in hiding under there?  I almost thought she had faux-ed it!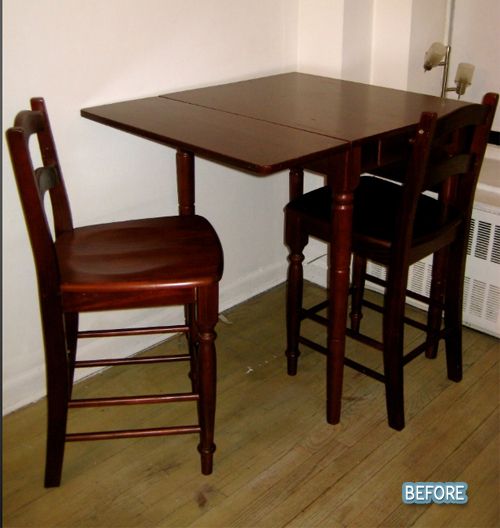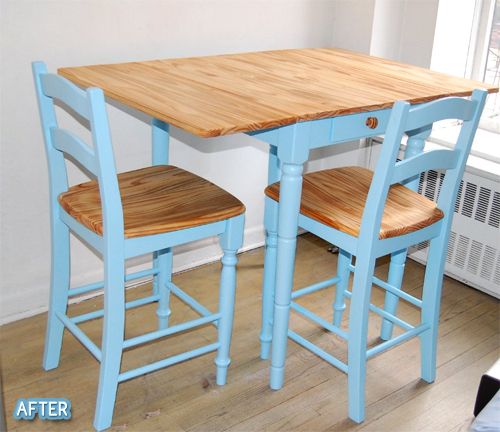 Hope you enjoyed this aqua round-up!  Great job and high-fives to everyone!