When I labeled Julie's kitchen submission for my files, I titled it "Rad Dark Country Kitchen."  That sounds like an oxymoron if I ever heard one, but take a gander at the following pictures, and I'm sure you'll agree.  (Gander is totally a country word y'all.)
Let's start on the left-hand side, looking out the windows.  Before: ho hum.  Now: Windwoahs!  The new windows are so fantastic I might be having an imaginary love affair with them.  Would you believe Julie just made them herself with little strips of moulding?!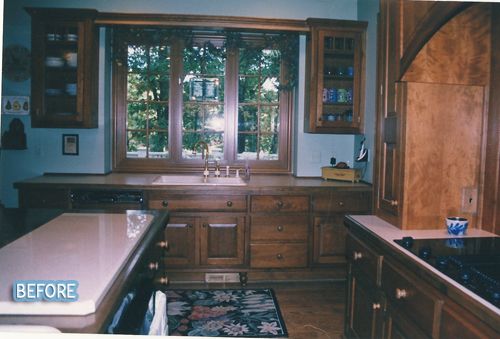 How did the cabinetry go darker, yet the whole room looks lighter?  It's country crockery, I say!  Note the rustic-chic touches, like the beam and the copper accents.  Many of the copper cabinet pulls started out as oil-rubbed bronze, and Julie simply sanded them down to reveal copper underneath!  I had no idea you could do that.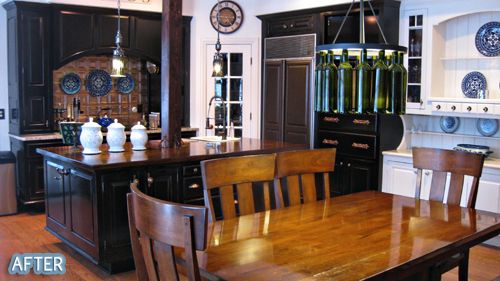 I live in Arizona, where the average temperature is too obscene to print, but I have just decided I need a fireplace in my kitchen too.  Julie left hers pretty much as-is (or as-
was,
I guess I should say), and opened the room up by painting the surrounding cabinetry and paneling white.  I love the contrast of the dark door frame and mantle!  MUCH more to see on her site
Red Head Can Decorate
.