Hey there! So, who likes pink?  I think pretty much everybody does.  Or they should.  I'm talking about pink the color, not Pink! the rock star, although I also like her too.  If I could pick out a singing voice for myself, I'd choose hers.  I would.  But that's not the point.  The point is, do you like pink?  I hope so, because there are some pinkified makeovers coming atcha'!  But first, an impromptu poll!
Ok, after all of that shajazz, we are going to start this off with some purple.  Ha ha!  I so crazy.  Seriously, I might be, I feel a little delirious.  I think I have a fever. 
Here we go!
Sarah from
Renewed Upon a Dream
fixed up this dresser for a baby shower gift, (woah, get her on your guest list!) and added the softest little breath of a hint of purple to the insets.  I love how IN-YOUR-FACE it isn't.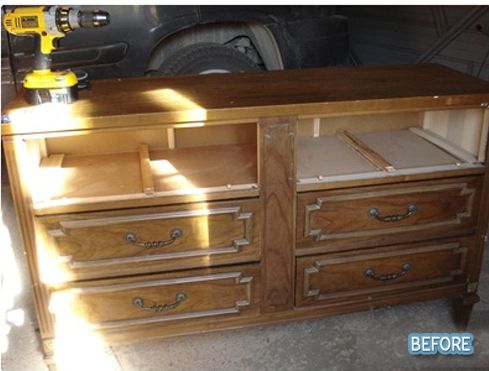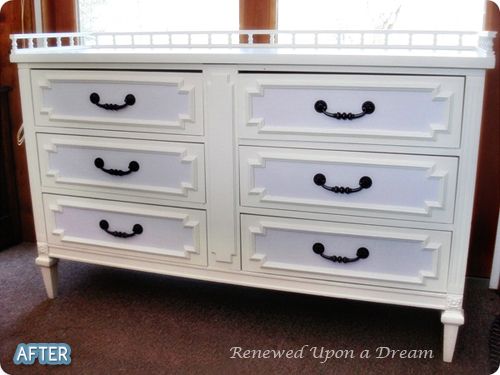 Jeff from
A Touch of Arkansas
built this sweet little end table with his bare hands (well, and some tools, I imagine).  He did two coats of pink, two coats of white, and then strategically sanded to uncover the pink.  Doesn't it look great peeking through on the wood grain?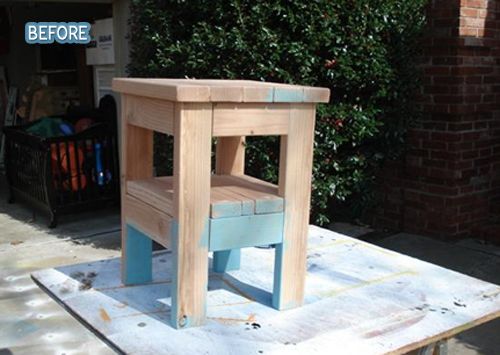 Better After reader Casey shows us that the combination of pink and polka dots can't be beat.  By anything.  Ever.  But especially not by mud-colored naugahyde.  Ha ha, you LOSE naugahyde!  (But you are a fun word to say).
Hmmm, I don't know how this one slipped in here, because it's not pink in any way, but it sure is girly, so we're going with it.  Amy, AKA
The Savvy Stager
had owned these chairs for too long and was sick of looking at them.  So she did what made obvious sense, faux fur!  Topped with sequined pillows!  I can totally see these adorning some fashion boutique that I'm not hip enough to shop in.  (And totally reminds me of this hilariousness from my favorite comic strip ever,
F Minus
.)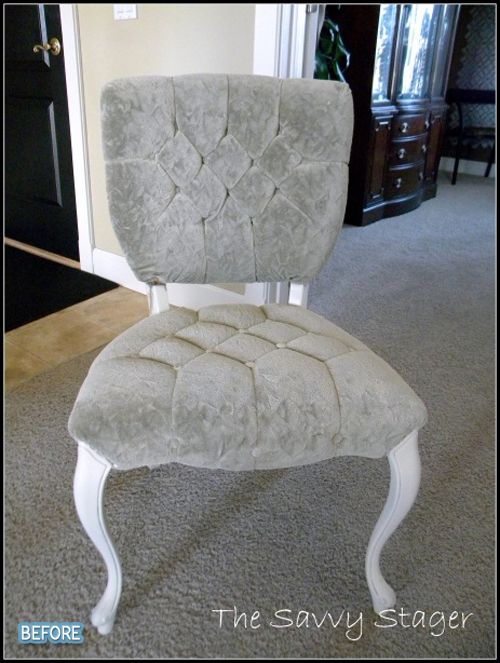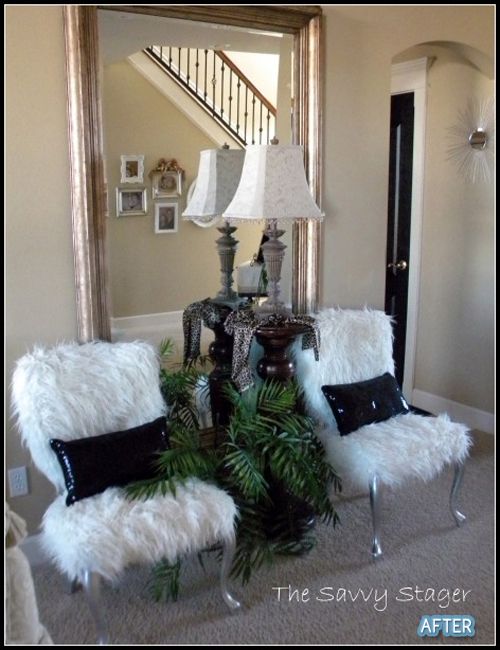 You know what?  This redo doesn't have any pink in it either, technically.  Blame my fever.  I'm sick as a dog and still blogging it up for you!  That is how much I love you, reader!  I might not actually be sick, I think it's just warm in here.  Anyway, there IS a rad pink wall, so it totally counts.  From Shannon at
Compartment Life.
Who knew those old hexagon cane-weave tables could look so current?!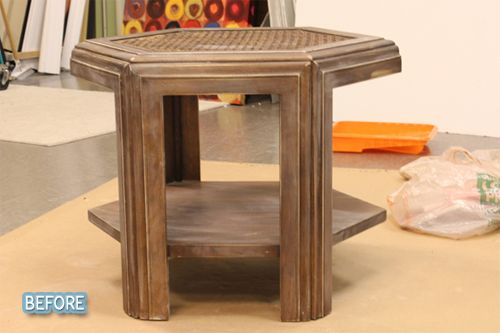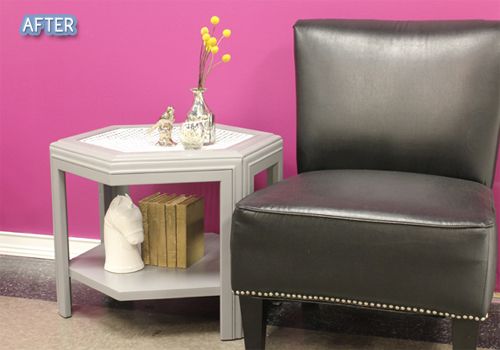 And finally, finishing off with some more, you guessed it, pink!  Shelly found this desk and chair for $30 and rehabbed the whole lot. Holy cow, what color was that desk?  It's like … are you old enough to remember when Crayola had a crayon color named "flesh"?  Yeah … it's better now.