(Now closed!  congrats to winner Jillian from My Split Ends!)
Hey there!  I hope you are in the mood for a sweet giveaway, because I've got one for you! Meet Julianne, designer and dreamer behind Pearl Blossoms!
As a wife and mother of three boys, Julianne found herself outnumbered and in need of a little girlyness!  So she nurtured a passion for creating custom jewelry and soon, Pearl Blossoms was born!
Pearl Blossoms offers 'pearls' which is Julianne's collection of custom bracelets and necklaces:
And '
blossoms
,' versatile floral accessories that can be clipped to a sweater or belt, or worn in the hair!  (This is just a smidgen of her huge selection, SO much more to see on the
website
).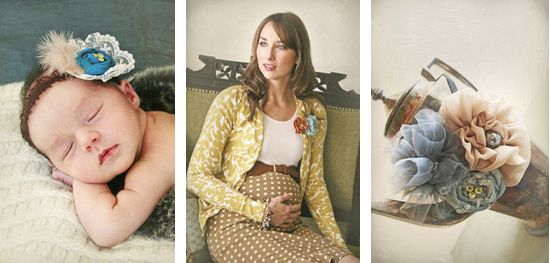 The cuteness is killing me!  KILLING ME!
Julianne was kind enough to offer me an item to review, and I chose the "Dalmation" bracelet, seen here:   
(this is actually not my hand.  After many, many failed attempts
to attractively photograph my hands, I decided to use my sister as a
hand model instead.  You can thank me later for not giving you
nightmares about my veiny skeletor hands).
Ok, so I love this bracelet.  Not only is it obviously cute, but do you see the sweet
little surprise smiling in there?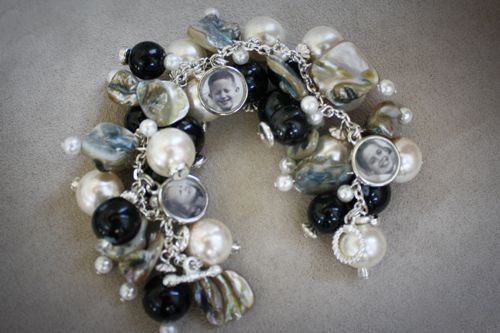 That's right, custom photo charms!  Ack!  My kids were so excited when I showed it to them.  You should have seen the looks on their faces! I think they feel pretty special whenever I wear it, which is often, because it really goes with everything.  
I will cherish this for a very long time. And what's great is that I know it will last a very long time, because her work is of the utmost quality.  I could tell just from the first time I held it in my hand.
Hey, I just realized that this would be a perfect gift for mother's day, ya'll.
 Look!  Here I am with my bracelet! Oh, I hate taking pictures of myself. I truly am happier than I look, I promise.  Don't you love how my shirt matches my wall?  My name is Lindsey and I'm a grayaholic.  A grayaholic with skeletor hands.
SO!  Guess what?  Julianne has kindly offered not one, not two, but THREE of her beautiful creations to three lucky Better After readers!  
That's right, THREE WINNERS!
First place will win a bracelet of your choice with up to three charms!
Second place will win a necklace of your choice!
Third place will win a blossom of your choice!
~~~~~~~~~~~~~~~~~~
Entering is easy!
To enter: simply leave a comment here!
For an extra entry:  'like' Pearl Blossoms on
Facebook
, and say Better After sent you!
For another extra entry: share the giveaway from the
Pearl Blossoms Facebook page
!
For another extra entry: visit the Pearl Blossoms site and tell me your favorite item!
~~~~~~~~~~~~~~~~~~
PLEASE, oh PLEASITY PLEASE come back here and leave a comment for each extra entry, and don't forget to leave a way for me to contact you!  
Giveaway will close Monday, April 2, winners will be chosen at random. 
Good luck, I hope you win!