Kim's house is 180 years old! No wonder she needed a kitchen update, she was probably grinding her own flour by torchlight!  She and her husband began this project in February of last year and had it done in time for Thanksgiving.  Pretty impressive, considering how much work was done here.
 They ripped out the 100 year old pine floors that couldn't withstand another sanding and replaced them with dark oak.  The lighting went back to the future, from recessed can lights and ceiling fans to period fixtures.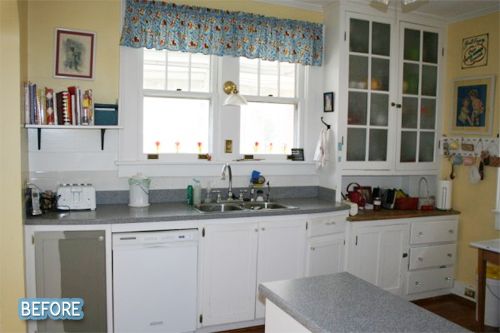 And after living with about three square inches of counter space for 12 years, Kim knocked out a wall of cabinets to make way for a long, luxurious stretch of countertop and opened the kitchen up to see all the way to the front of the house!  Such a huge change from before!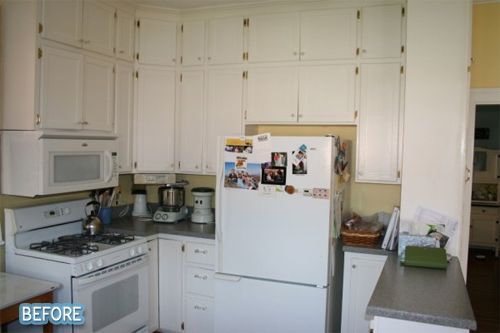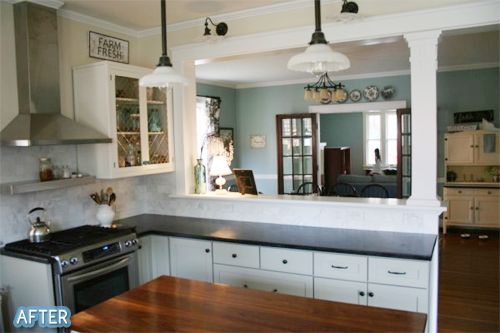 Want to see the other side?  Sure you do!  She reports "That's probably my proudest DIY accomplishment! 
I taught myself to use a compound miter saw and nail gun and built it
myself!"
Update: OK, OK, due to popular demand, here is the "eat in" side of the kitchen, where the mysterious fridge had disappeared to! I agree, Kim needs to start a blog!
 .