When Jennifer emailed me her Cosco stool makeover, I mistakenly read it as "Costcos tool makeover," and I was like … huh?  Costco tools?  Is this like, a set of knives?  Or one of those mega-blenders that can turn strawberry hulls and potato peels into a deliciously healthy shake?  I want one of those blenders.  Holy smokes, they cost like $500 though!  Anyway.
Then I opened up the email and realized it was Cosco, not
Cost
co, and a stool, obviously, not a tool.  Then it took me way back, because my grandma had one of these.  Then I reminded myself that I actually have one of these in the garage too.  Then I resolved to make it look awesome like hers.  Then I made a strawberry-hull shake. In my dreams. See more right
HERE
.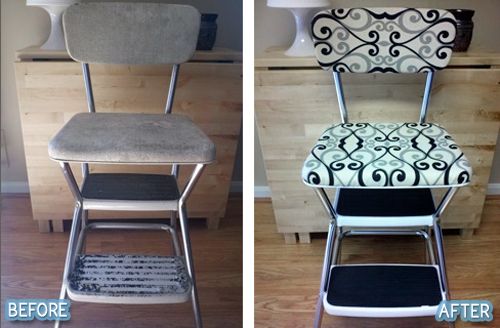 What's that?  You want some more chair makeovery yumminess?  Then feast your eyeballs on this colorful office chair from Kendra at
My Insanity
.  It's so sweet and cheerful it almost makes you feel like you are running down a flower-covered hill in the springtime, instead of what you are actually doing: sitting in an office chair.