Did you come here today looking for some boy-bedroom inspiration?  Then you are in luck!  And also, psychic!  Do you want to know a secret?  I actually think I'm a little bit psychic.  I don't like, see dead people, but sometimes I just know things, that I shouldn't know.  Or my dreams sometimes come true.   Like one time I dreamed that I went to a certain thrift store (that I hardly ever, ever went to), and I found this specific chair there, and guess what?  When I woke up, I decided I'd better go to that store or else I'd be probably haunted or cursed or something, and the chair was there!  Weeeeird, huh?
Ok, but back to boy bedrooms.  You don't need to be a psychic to see that these are better!  Sorry for the lame segue.  But there's nothing lame about this dresser that got a paint job as part of an entire red, white and blue bedroom makeover for a lucky little boy named Grady.  See much more on Kathleen's blog
The Tough Times Make You Stronger
.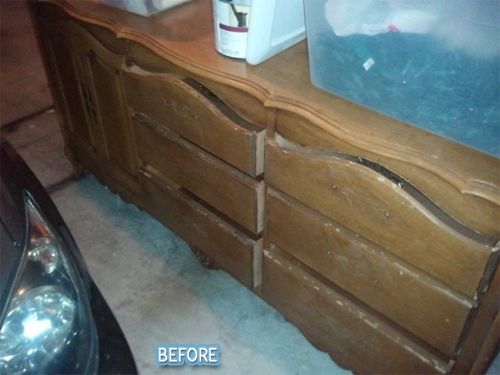 Linda's son was ready to graduate from his primary-color schemed room since he was a teenager and all, so she gave it an orange and gray update with some stripes for dynamism.  Is that a real word?  The white stripes are actually moulding, and I love how they pop out from the wall for extra interest.  Tons of details and a custom-curtain how-to on her blog
It All Started with Paint
.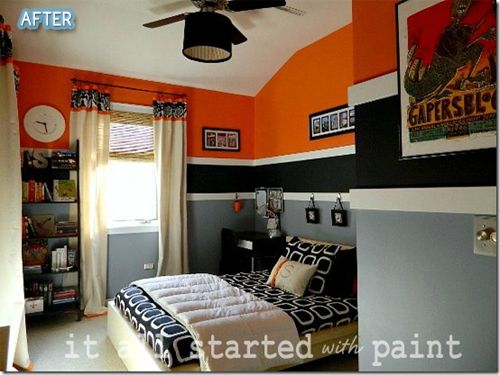 And finally, you are going to want to set aside a block of time to go check out the final reveal of Ronda's pirate-room.  Do you remember the
pirate closet-doors makeover
she started with? Well, here is the finished product, and it is so fantastic, you might cry.  And convince your husband/roomate/partner/parents that you are turning your bedroom into a pirate lair too. 
As you can see, they started with a blank slate, so pretty much everything in here was DIYed or thrifted, they even built the beds!  Get an up close look on her blog
Batchelors Way.
  Arg! I'm jealous, matey!