Are you an innie or an outie?  No no, I'm not talking about your belly button, though if you must know, mine is an innie.  It goes so far in you can barely touch the end of it.  Ew.  Belly buttons, gross.  Why are we talking about belly buttons?  We're not.  We're talking about if you are an indoor type of person or an outdoors type of person.  Would you rather relax in the cozy comfort of your home, or do you prefer the wind in your hair and the wide open sky?  Either way, here comes a chair makeover for innies and a chair makeover for outies!  AND they are both rocking chairs!  Because everybody likes those.
First from Ginger, who redid this worn out rocker and mismatched ottoman.  The rocker was in her family for years, the ottoman came from a friend's ex-boyfriend.  Ha!  I find that terribly funny for some reason. Now they look like they've always belonged together! See more on her blog
The Savvy Shanty.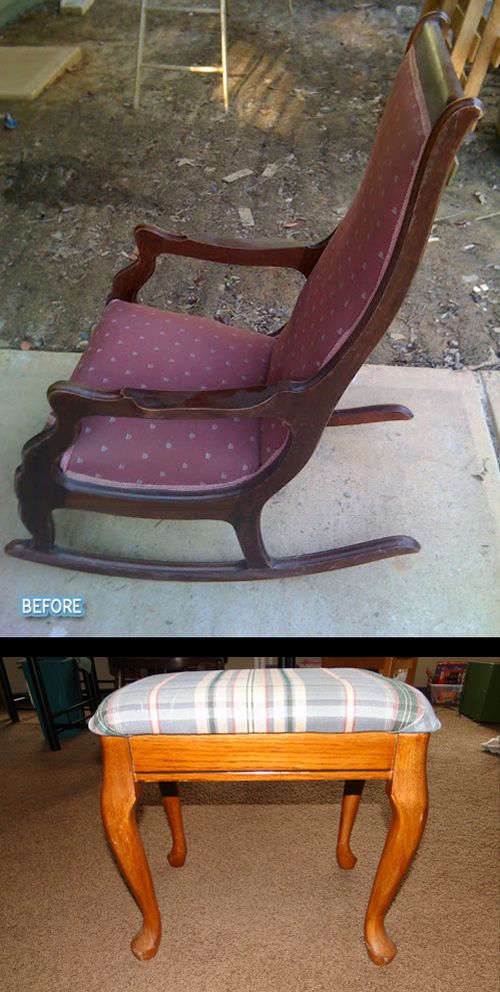 And for the outies out there, can you see yourself cuddled up here in front of a fire, roasting marshmallows and feeling all hip about yourself in this cool vintage glider?  I can!  I think I'm an outie.  At least when there's s'mores involved.  From Better After reader Jennifer.  Great job!