This post is a bunch of before and afters than have nothing to do with each other!  No common color, no theme of any kind, just a random assortment of little projects that I though were cool in one way or another and wanted to share!  
Well, I don't know if this waterfall project by Becky qualifies as little, because there were some serious boulders she had to wrangle into place to create this great water feature in what used to be a dirty corner of emptiness.  Check out how she did it on her blog
Reinventing the Ordinary
.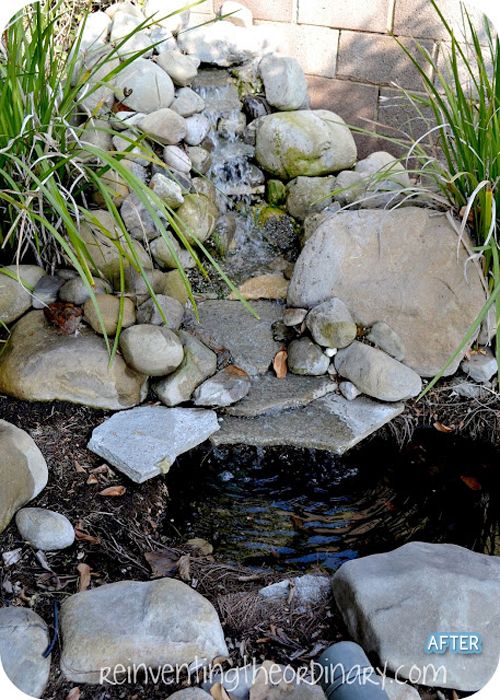 Catherine at
Freddy and Petunia
always has something crafty up her sleeve, like this frame she made into a jewelry box.  "But Lindsey, that is not a jewelry box, it's just a jewelry
frame
!"  Ha!  You underestimate Catherine's craftiness!  It is indeed a jewelry box with a lid and everything, see?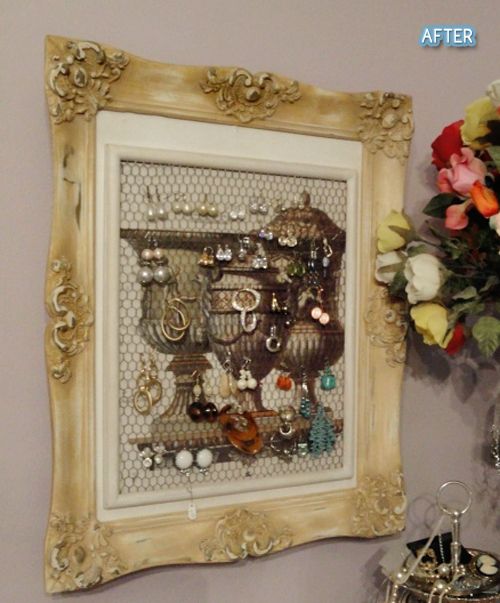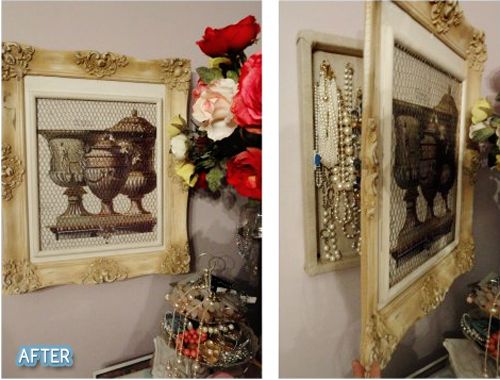 Found a cool old dresser, but is has no drawers?  Well turn that frown upside down, because you just scored a sweet little storage unit. 
Liz Marie
simply filled in her dresser's empty spaces with open shelving. Try it! Not only will you have more space to stash your stuff, you will have reduced your fingers-slammed-in-drawer-injury-potential to zero percent.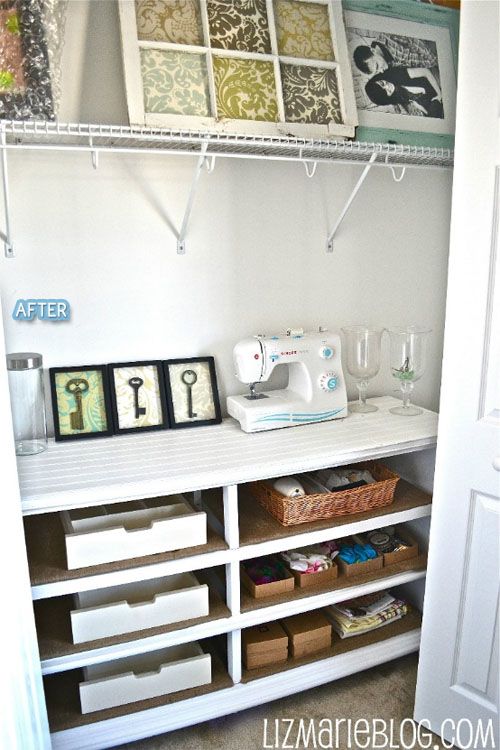 I love Emily's spiff-ified suitcase project here.  I think everything on earth would be more cheerful and fabulous with the addition of vintage bird-wallpaper.  Perhaps I should wallpaper my crotchety old neighbor guy across the street who actually called the cops on my son once for riding his bike through his yard.  I'm sure that would set him straight. See more on Emily's blog
Creatively Em
.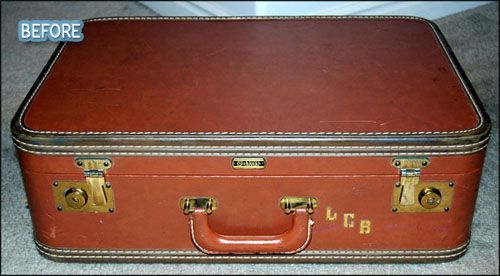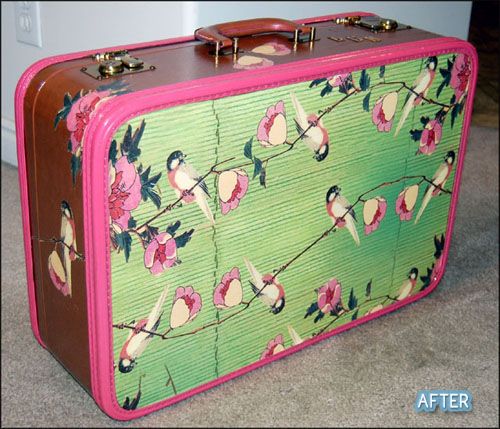 And speaking of fanciful wallpaper, that's what Anastasia used to fix
up this worn out hutch.  Not only did she brighten it up (wow!) but she
invented something new in the process: a murphy desk!  Brilliant way to
maximize its capabilities.  There's another fun little surprise on her hutch
that you can see on her blog
Haharyashki.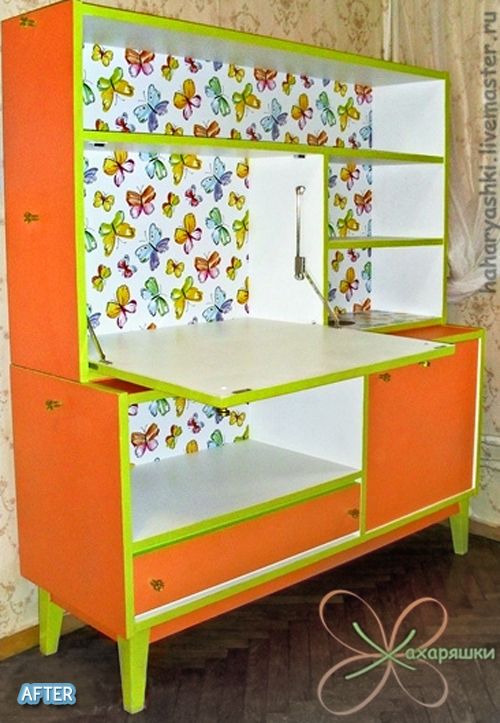 Dang it, I meant to post this one on Valentine's day, since everyone knows St. Valentine was the patron saint of all things pink and sparkly.  Or love.  Whatever, same thing. From Elaine at
Visual Meringue.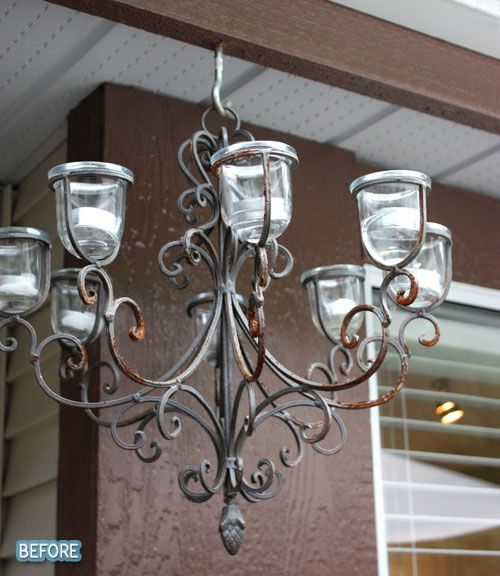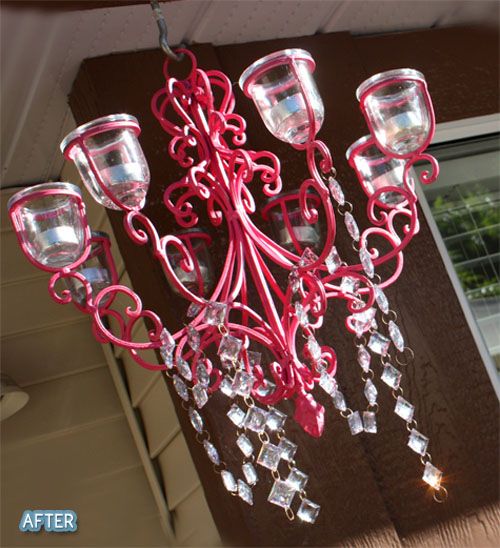 And finally, check out this amazing painted floor from Becca. Anything would have been an improvement over that linoleum acid-trip, if acid-trips were very, very beige. (It's like a kaleidoscope of meh.)  Well not anymore, buckaroo. She covered it in cuteness and you can see how on her blog
Becca and Jared
. (whoops, just realized this is a private blog.  perhaps she'll enlighten us in the comments!)