So, did I ever tell you about that Victorian mansion dollhouse from Fisher Price that I triple circled in the Sears Christmas catalog every single year of my life and never got? No?  Well, I'm still suppressing my rage about it.  AAARrrrghIwantedthatdollhouseSOBAD.  Instead my dolls lived in my bookcase.  I tried to pretend it was their charmingly sparse flat, (they were British), but it never quite cut it for me.
This old dollhouse that Natalie inherited from her home's previous owners wasn't cutting it for her either.  So she whipped out her glue gun and dolled it up (pun!) as a surprise for her daughter.  Best mom ever! You could totally make something similar with those square bookcases from IKEA, if your daughter doesn't have anything against putting her dolls in a bookcase.  Siiiiiiiiiiigh.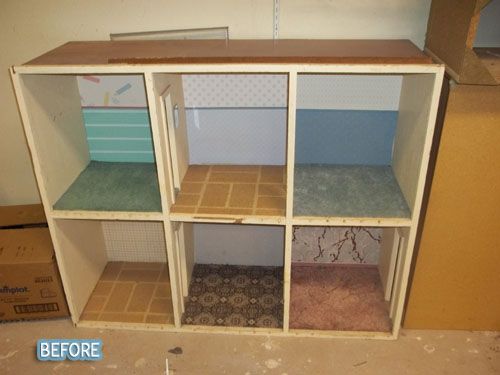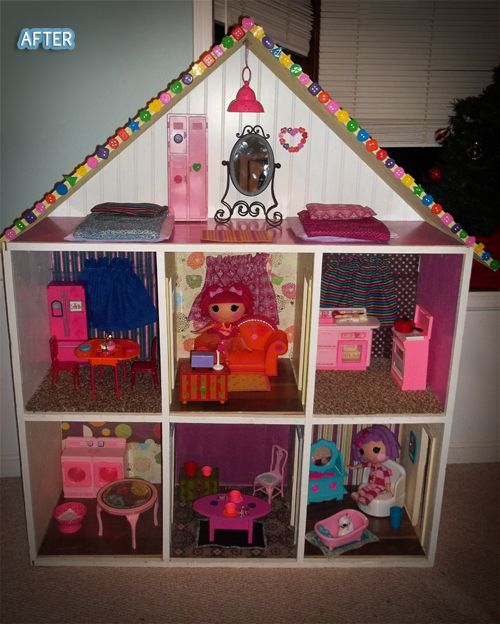 But, if you find yourself standing there in IKEA, getting a little overwhelmed at the idea of taking on a project of this magnitude, don't worry. Steer yourself over to the Latt table section instead!  Dress it up with fun colors and chalkboard paint!  Easy! AND you've still convinced your kids that you are awesome! See this one in action on Julia's blog
Chris Loves Julia
.