Roses are red,
Violets are blue
Is it terribly uncreative of me to start a post out this way?
Don't answer that.
Sorry, my brain isn't functioning well today. A friend just brought over some chocolate covered strawberries the size of your head, and I ate half the plateful, plus a few boxes of Valentine's candy I 'borrowed' from the kids, and now I'm kind of in a sugar coma.  I think I'm going to go take a nap.   So please entertain yourselves by checking out these fantastic entryway redos, and while you're at it, do me a favor and eat the rest of those strawberries.
First a boring breezeway gets beautified by board and batten! Love the black door too.  Especially with the gray walls.  Mmm, yep, I'm pinning this one. From Kristi at
KrisKraft
.
But gray walls weren't working for Suzy at
Simply Vintageous
, so she jazzed up her entryway with vertical stripes! They are so slimming, you know. The accessories are a nice touch too, it probably would never have occurred to me to decorate such a small space.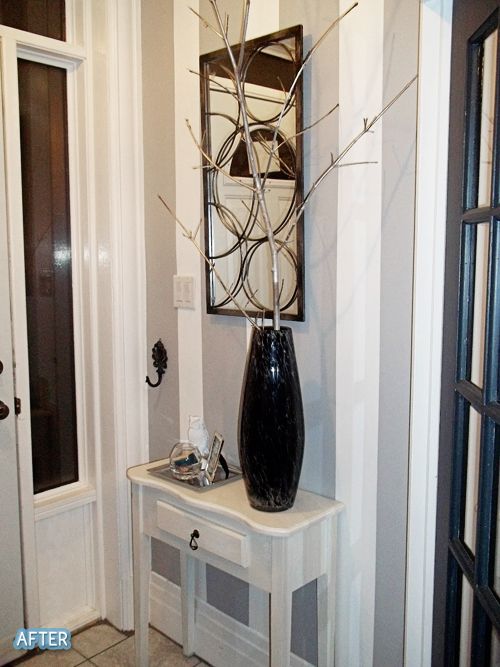 And I suppose this last makeover doesn't technically count as an entryway, unless you consider yourself leaving the first half of the stairs and entering the next, but no matter!  Because Roeshel's stair landing is another small space that benefited from a big change and probably makes everyone who passes through smile.  And stop for a photo op with that stuffed jackalope. That what I would do. See the how-to on her fabulous blog
The DIY Showoff
.