When I first looked at Karianne's bathroom here, I wasn't too terrified.  In fact, I thought it looked pretty good, what with that dark-stained beadboard and the clawfoot tub (shell toilet notwithstanding).  But then I saw the after and it really knocked my socks off.  Then I looked closer at that amazing new sink and it knocked my socks off again!  (Let's just pretend I was wearing two pairs of socks).  It's light, it's bright, it's cool, it's casual … it's better!  Check it out on her blog
Thistlewood Farm.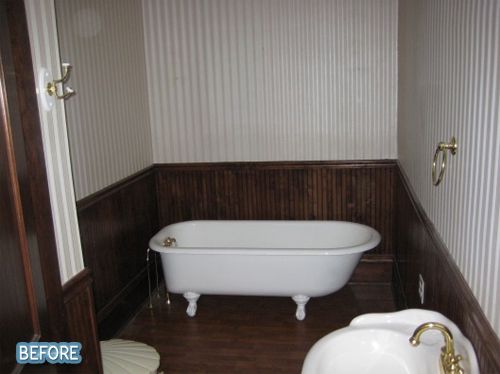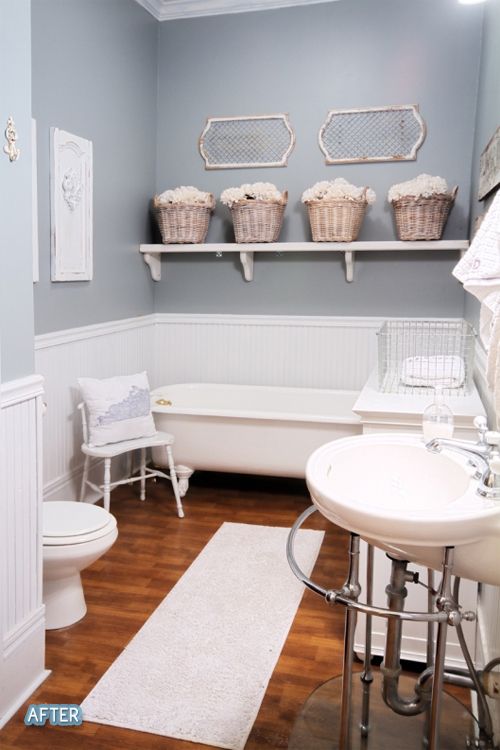 PS: I'm late the the party as usual on this, but did you
know the Google Followers tool (Google Friend Connect) is allegedly
going away?  Urg.  That's a super huge big bummer.  BUT, luckily there
is something even better to take its place: Linky Followers.
Linky Followers is a free tool to help you keep track of the blogs you love.
(Not to mention the people who love YOUR blog!)  It has a ton of great
features, like a reader function, which allows you to read the most
recent updates of your favorite blogs, plus organizational tools for you
to categorize them.  It's super easy to use.  You can follow Better
After by clicking on the Linky Followers tool right over there in my right sidebar —-
(That would be really cool of you if you wanted to follow me.)
In fact, I will grant you a wish if you decide to follow me!
Not really.
What am I a unicorn or something?
But if I was a unicorn, I totally would.